Borderland Bound – Ruby in: Super-Stacked Party Girl Snatched From Her Bed & Prepared for the Secret Pleasure Slave Circuit!
Borderland Bound – Ruby in: Super-Stacked Party Girl Snatched From Her Bed & Prepared for the Secret Pleasure Slave Circuit!
Returning early that evening, feeling good and ready for a light nap before going out again later, busty beauty Ruby Summers heads upstairs, strips off and les down. It doesn't take her long to nod off, and when she does. trouble steps out from a dark corner of the room! A masked man suddenly leaps on her, a hand clamped down hard over her mouth!. Ruby struggles furiously but is no match for him as he slaps black tape over her lips, sealing them and shutting her up, while expertly pinning her.
Ruby bucks and kicks beneath him but he keeps her under control as he flips her over and tightens a zip tie around her wrists binding them in back of her. There, that should hold her while he mauls her massive tits some – OOFFF!!! She's kneed him right in the jewels and is off at speed, dashing down the stairs while bound and gagged and trying as hard as she might to get out of the house. He's latched the door, however, so even her commendable efforts in this respect are thwarted. Then he rushes her!
Shoving the mmmmppphhhhing babe back upstairs, eh readies some video equipment, binds her ankles, and turns on the camera. There are many watchers, with their bank accounts at the ready. They will be bidding on the captured stunner in what is known as the 'Sex Slave Circuit', a well-under-the-radar affair designed to give filthy, unscrupulous bad guys their chance to have hot captives delivered to their doorsteps! Right now, as the tapegagged Ruby squirms in her chair, the camera capturing every second, a dude called Matthias, from Germany, has the most money on her, and a request.
Ruby's thrilled captor obliges by over gagging the cutie with a thick leather strip and leaving her to struggle for the attentions of this highest of bidders. Everybody else is shut out of the stream, no doubt firing up motors across the globe and serving to coerce others to stump up more cash offers! Ruby, meanwhile, is blindfolded and left wriggling on her seat, for the exquisite pleasure of that bidder! Now, time to get this chick OUT of here and back to his hideout, from whence he will make all of the necessaries to get her hot ass out of the country, via private vessel!
We next see the beauty in chains – ankles and wrist cuffs – and slave-collared up to the max being hustled quick smart across the backside of an eerie house. It's the place he is using to hold the girls he grabs, and right now he has this amazing one. He bundles Ruby kicking and twisting inside and has his on sordid fun with her before tying her up with a lot of white rope!
Ruby, having been enjoyed in all of her ironed glory, is stripped of her stilettos and roughly bound face down on the floor. More tape is applied to gag and humiliate her – and we note this guy has a thing for rubbing his thumb over their sticky tape gagged mouths -so clearly he is getting off on all of it, which revolts the bound woman. We like that fury she gives off, don't we? Very. Ruby. And now, having her cute, twitching toes lashed together with twine, she is further humiliated. Hogbound and toe-lashed!
Copping a lengthy feel of her wonderful boobies, she is told she will remain like this for the night, while final biddings are assessed, and then he will hood her the funk up and she can get some pig-restrained shut eye, in prep for her big journey, commencing in in the early hours of the morning! Left to struggle ferociously, which you know she does, he will later indeed cover her up. And now we have that to get all over this amazing stuff. Yep, Ruby with a hood over her head, as hot as she is, is very exciting we note. So she'll really be all done up like this 'til morning?? Let us stay and keep her company 'til then, won't you?! WOW!

Starring: Ruby Summers
Size: 1.15 GB
Duration: 00:27:16 min
Resolution: 1280×720
Format video: mp4
Preview: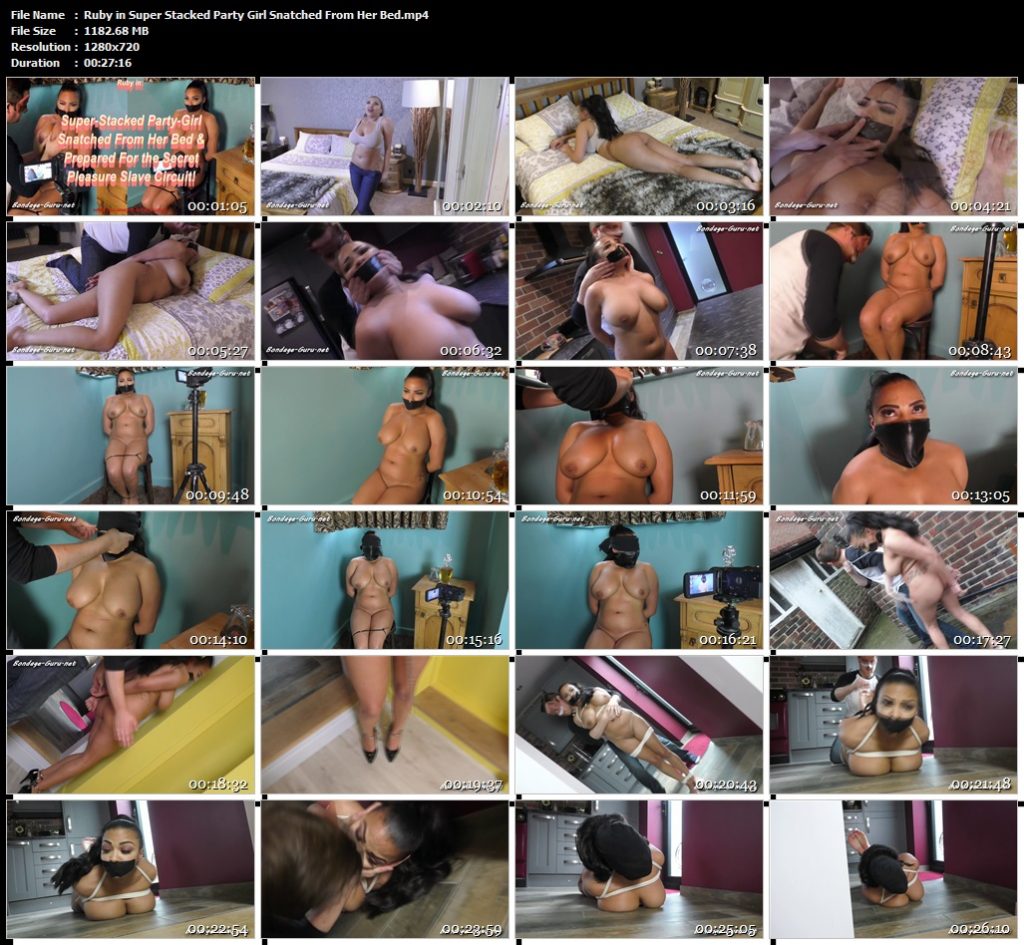 Download link:
Ruby_in_Super_Stacked_Party_Girl_Snatched_From_Her_Bed.mp4