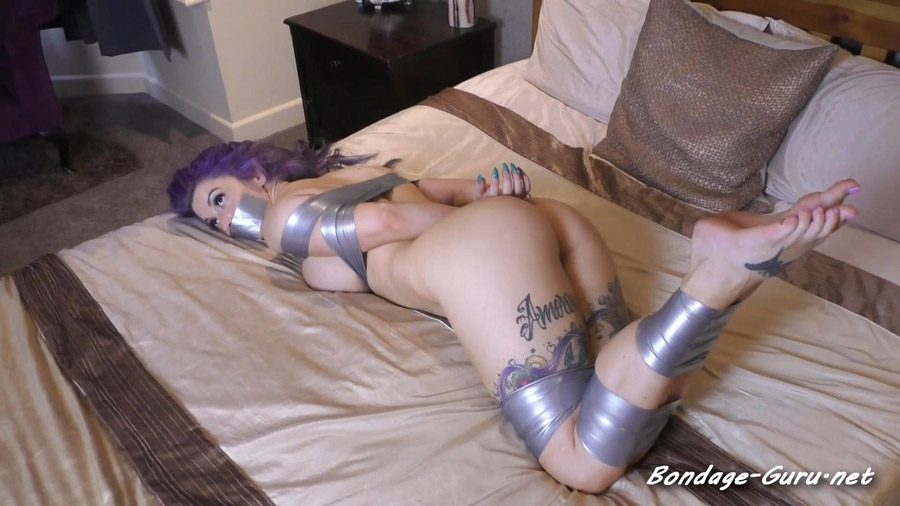 Borderland Bound – Roxxi in: The Night I Brought the Beautiful Stranger Home & She Got So Hot Dominating Me, She Soon Ached to be Bound Up Herself!
Borderland Bound – Roxxi in: The Night I Brought the Beautiful Stranger Home & She Got So Hot Dominating Me, She Soon Ached to be Bound Up Herself!
The beautiful tied up stranger he has in his apartment wants more. She asks, when he peels the tape from her lips, to be stripped entirely naked and hidden bound and gagged in his bedroom, where she wants to be his secret captive, for use only by him. But he has to keep her quiet. or she might just scream. She winks at him, mischievously. Yes, he has to keep her quiet. Can he manage it?
The girl, a real beauty, agreed to come home with him early in the evening. Sipping her cocktail, she obviously finds him very attractive, and quickly reveals that she is a little kinky. He allows as to how he is too, and asks what she has in mind.
Quickly returning to his apartment, the pair get right down to it. This very hot, buxom chick wants him helpless, and he is up for it! She's so hot he can't resist, and when she cracks out a roll of duct tape – where was she hiding THAT – he smiles. It's all POV, to really show you guys that this could be you the amazing lady is teasing, and it's only getting hotter and heavier from herein out!
The mysterious girl toys with and teases as she steps in to bind and tapegag, then slowly strips and humiliates him/us with her big juicy tits. Getting more and more excited, now in only her white, lace thong, she is ready to burst – but there is something which simply must be done first: SHE must be bound and gagged. She wants these roles reversed, fast, and will this chap agree?? What do you think?
Soon enough, our beautiful stranger is bound with tape on the floor, in just her thong. Her nipples hard and erect turned on seriously, she writhes and mmmmppphhhs into the strips of tape he has sealed her pretty mouth with. She rolls her hips for him, thrusting, lost in ecstasy. THIS is what she wants, and all she wants. for now. The girl squirms over onto her side and writhes around, tape bound and tapegagged, watching us watching her. Was that a wink she just gave? Yeah, and there's more to come.
The statuesque stunner continues to struggle, sometimes urgently, loving the fact that she really is completely helpless, and unable to cry out should she require help. Being gagged and bound is precisely what she needs to get her off. Her amazing bare feet become quite the feature too. She knows how sexy they are, and still, even while bound and gagged, teases us with them. What we wouldn't do to place those sweet, succulent soles somewhere naught, and let her painted toes do the rest. But what now? She is motioning us over, to remove her gag.
"Take me into the bedroom. Make me YOURS."
Meanwhile, on his big, king-size bed, the nude and heavily tape bound beauty writhes sensuously, lightly tapping at our collective lens with her sexy bare toes. Oh she is a minx, and that look in her eye promises to excite us like we wouldn't believe. With that, she begins struggling again, fighting the tape, increasingly aroused when she discovers it's impossible to escape from.
With several strips of silver tape slapped over her mouth, she can't say a word, and must remain helpless. His. To do with as he pleases. Oh, just the thought of it is getting her so horny again. She bumps and grinds, up and down with her perfect round ass, as if intent on a little more than just struggling. She really wants to get off, and it shows. And so what shall we do about that? Why, leave this beautiful, busty strange girl precisely on that bed, and allow her to continue to drive us to the brink. If only we could meet a babe likes this over cocktails, eh? Well, we've met her now, and she is giving us the POV performance of a lifetime. You go, Stranger, and do. come again!

Starring: Roxxi
Size: 1.47 GB
Duration: 00:23:53 min
Resolution: 1920×1080
Format video: mp4
Preview:


Download link:
Roxxi_in_The_Night_I_Brought_the_Beautiful_Stranger_Home.mp4