Borderland Bound – Nikita & Aemelia in: The 'Gus the Gorilla' Caper: "We Need to Untie Ourselves Fast & Get Out Before HE Comes Back to Check on Us!"
Borderland Bound – Nikita & Aemelia in: The 'Gus the Gorilla' Caper: "We Need to Untie Ourselves Fast & Get Out Before HE Comes Back to Check on Us!"
Two helplessly bound and gagged maidens. Grisly experiments performed in secret. A case of the utmost danger. Sounds like another super-kinky Borderland damsel adventure designed to give our cleave gag fans something to think about for a jolly long time to come! For make no mistake about it; the gag talk and sensational struggling from our gorgeous captives will leave you in quite the spin!
They arrive early, with the beginnings of daylight smudging the horizon. The idea is that any occupants of this house masquerading as normal home but actually concealing something very bad, will either be asleep or away from their post. They'll search through the place, reliant on their hand-to-hand combat prowess should they encounter trouble. But, Ladies, what if you are taken by surprise.?
With ravishing Amelia decked out in cute pink blouse, short skirt and awesome leopard-print high heels, amazing Nikita in white and black, the busty hotties cut very sexy lady cop figures. But it is not their looks which have got them here today – it's their guile.
Having convinced Old Mac at the SeaPort Jetty to guide them safely through the fog, they arrive here at the house, which is actually a disguised laboratory from whence genetic mutations are birthed. So nothing too dramatic then. But, what if Old Mac is somehow in on it, and has delivered the young madams like lambs to the you-know-what?
It turns out, a convention will be taking place at the house, which fronts as a meeting hall, from 9am onwards… the girls believe they'll be in and out by then, not reckoning on the fact that they'll only be 'in' – as tied up and gagged hostages struggling like crazy to spill their tale! But the caretaker, a sinister oddball in a mask, has prior knowledge of their arrival. He's lying in wait. Orders are to restrain the meddlers until that night, when they themselves might well make for interesting experimental fodder!
Sightings of a strange mutant nicknamed Gus the Gorilla have been terrifying the village occupants for some weeks and now the ladies are here to check into that stuff, and hopefully put any falsities to bed. They predictably split up and predictably get hauled off unbeknownst to the other, a tight , epic handgag and a good squirming. Both girls are next concealed, trussed and very tightly gagged with men's handkerchiefs, in a back room. We're thrilled to see them struggling vigorously, dumped on the floor!
The girls, cleave gagged and thus unable to speak, writhe hotly beside one another, desperately trying to understand what is being mmmmmppphhhhh'd. They can, however, pick up on the vibe, which is suggesting they really ought to escape. They don't much fancy meeting Gus the Gorilla while detainees here! After a sexy struggle, they begin to pick at one another's; knots. It's not easy, and a slew more struggling and gag mumbling follows, but then, all of a sudden, Nikita slips a wrist free!
What we have now is a truly awesome segment where the girls untie each other, gags still in their mouths, temporarily forgotten about as they busy themselves figuring out their elaborate knots! After a time, they are free, and pull their gags from between their teeth, where they rest about their necks. They have to get out of this place, fast. They can then get reinforcements and raid the lab! But as they are preparing to flee through the halls, they hear a click. Something cold and silver is leveled at them from across the way. Going somewhere, Girls.?
Nikita and Aemelia have no choice but to surrender and are herded back into that room where they are quickly bound and gagged with bandanas in chairs. That should hold them. They wriggle in their seats, clearly uncomfortable with those tightly pulled patterned scarves digging into their bulging cheeks. They ggggmmmppphhhhh about as excitingly as you might imagine, and continue to struggle, Aemelia chewing at a thick purple one while Nikita wrestles, with clenched teeth, a black affair.
Later, while being checked on by the caretaker, feisty bitch Aemelia kicks him. He grabs her, furious and further ties her bound legs up painfully securely underneath her seat, connecting to her tied wrists. Ouch! Try kicking now! He binds the struggling Nikita much the same way and avails himself of the girls' blouse-covered boobies as they gurgle, enraged, around mouths stopped with gags. They are helpless to resist, and now must remain.
And so, with our damsels securely gagged and bound to their seats, we must surely, with furrowed brows be rooting for their escape. They are both threatened with talk of the mutant lab and the things which might be done to them there, and it's all so damned fiendish we must hope they make it out of there. But not before they commence another seriously hot chair struggle session, trying to escape before darkness falls! Mmmmmrrrmmmpppphhhh!

Starring: Nikita Caslida, Aemelia Fox
Size: 1.66 GB
Duration: 00:26:52 min
Resolution: 1920×1080
Format video: mp4
Preview: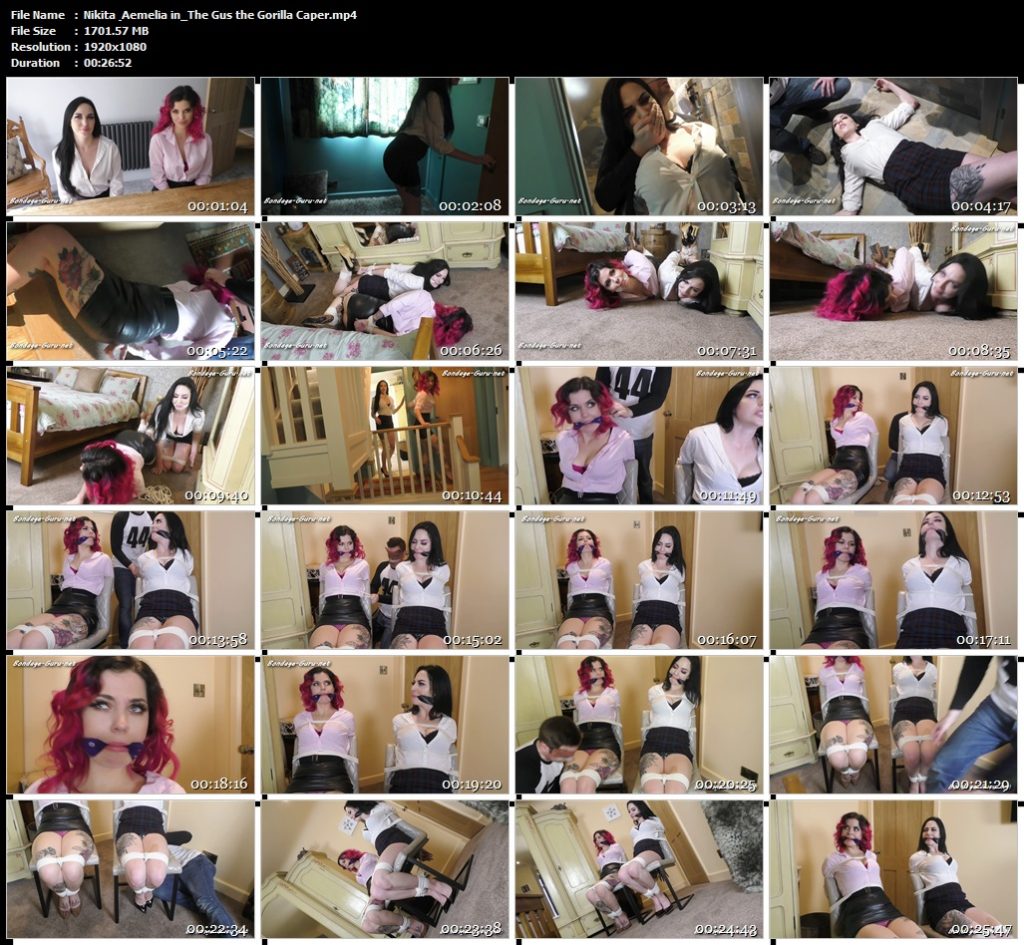 Download link:
Nikita_&_Aemelia_in_The_Gus_the_Gorilla_Caper.mp4