Borderland Bound – Kellie in: WorkOut Return – Without the Wind-Down: Crazed Intruder Binds & Gags her Mouth So Hard She Sees the Stars!
Borderland Bound – Kellie in: WorkOut Return – Without the Wind-Down: Crazed Intruder Binds & Gags her Mouth So Hard She Sees the Stars!
Finally, the creep is leaving! She can hear him banging and crashing around down there – sounds like her TV going out now. She scans the room with huge, jade green eyes, sweat popping on her nervous brow. Her mouth is stuffed into oblivion with a huge gym sock and bound mercilessly with a huge wide taping guaranteed to have her quietly gagging all over the place. Bound into a stringent hogtie, the hot milf wiggles, most agitated, in thick slouch socks and spandex. It's hot. VERY hot.
Re-entering the house and struggling with the front door lock (WD-40 needed, we think) Kellie has surprised a burglar. Now, this guy is PISSED. He waited for hours in the bushes at the back of her property for her to leave and now she is unexpectedly back! She actually got to the gym too, beginning her warm up, before realising she'd forgotten her new pulse monitor. She's a fastidious kind of a chick and can't do her thing unless she has it with her. So she's back.
Oh well, only one thing for it. Sorry, Babe! The masked burglar leaps down the stairs at her and before she can even turn has her handgagged and wriggling mightily in his clutches. She is no match for him and he soon has the busty blonde, hands locked behind her encircled by his own, marching up her own staircase. Annoyed with her histrionics, he slaps again and again at her big round ass as he forces her up there! Kellie is then bundled into a spare bedroom and dragged to the deck.
All her struggles have him curious and so he reaches into her vest top and grabs a handful of her big thick boobies. With one hand still clamped like iron over her yappy pie-guzzler, he avails himself of more and more of her ripe tits underneath her top. Kellie grumbles muchly, enraged, into his palm as he stifles her further before readying her to be bound!
With the lady heavily tied up with washing line and with a huge ballgag he found in her drawer (kinky) being strapped into her face, there really is very little way for her to get out of this. The guy feels the spit-spuming beauty up some more then shoves her back on the bed and shuts her away. The robbing begins while Kellie struggles mightily in the bedroom. Sitting up again, she gag-gurgles, staring wildly around for something sharp she can get to work on. But these ropes are just so tight, she falls over again!
The guy comes back in to get her tits out again (hard to blame him), while the gagged Kellie communicates her disdain as only she can. He ignores her and leaves her writhing passionately again before finally returning and playing with her some more. Kellie is going crazy, so he stuffs her fat mouth with a huge gym sock and winds tape again and again around her face and head, creating quite the epic cleave wrap. Kellie's eyes bulge wildly under the mounting pressure, each turn tightening her up some more, before she is fondled again and left spinning around on the bed!
Later, and sat up against a wall in front of the curtains, the hot milf struggles onward, eventually making it back up to the bed, and from there spring-boarding herself into a bunny hop. She almost makes it too – before being roughly tackled back down to the floor,. The bitch was almost gone then – he'd better rope her up some more!
With hot, tit-heavy Kellie bucking and whipping her big butt up at him, he corrals her into a damned fine pigtie. The bubbly blonde positively RAGES through her stuffed out gag, helpless to prevent this humiliation and robbery. With the babe totally incapacitated on the floor, the burglar heads back downstairs to finish up, and ultimately leave. He's done a real number on this sexy big beaut and he leaves her in his wake for us to sit down with and admire. Looks like she could use the company too, huh? Kellie?? Ggggrrrrrffffppphhhhhh!!!!!!!!

Starring: Kellie Obrian
Size: 1.85 GB
Duration: 00:29:54 min
Resolution: 1920×1080
Format video: mp4
Preview: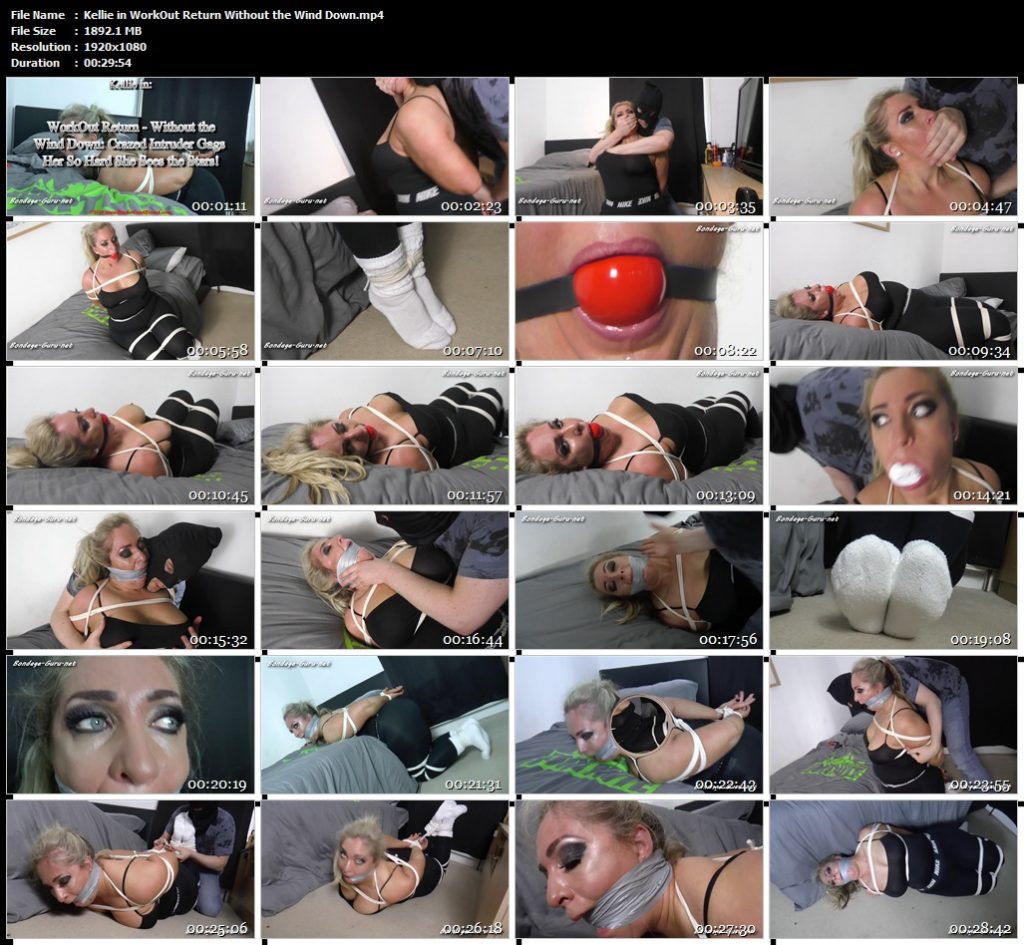 Download link:
Kellie_in_WorkOut_Return_Without_the_Wind_Down.mp4