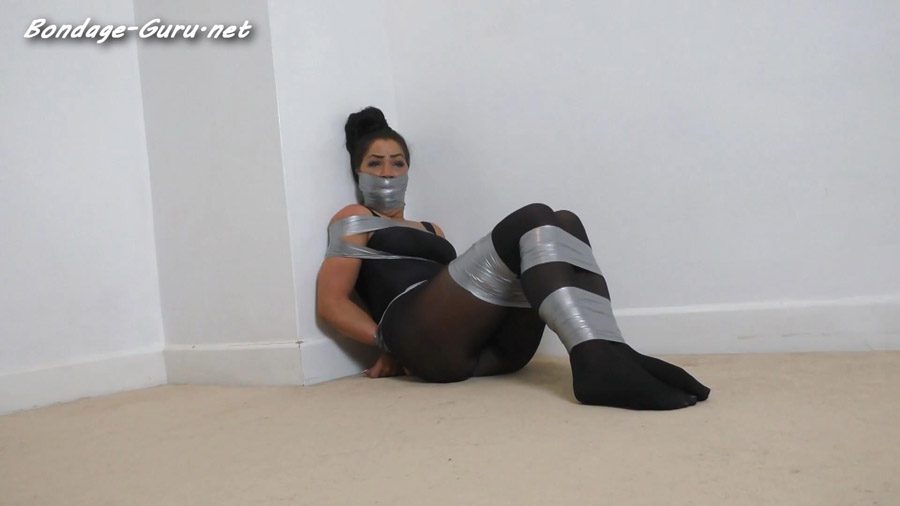 Borderland Bound – Jess Harrington in: Bested Ballet Star's Insane Power Struggle While Being Definitively Robbed!
Borderland Bound – Jess Harrington in: Bested Ballet Star's Insane Power Struggle While Being Definitively Robbed!
Locked inside her private room, a gorgeous ballet performer bashes against walls and whips across the floor, trying desperately to make herself heard. Alas, she cannot get much above an impassioned uummmppphhh!! So heavily has she been pack-face-gagged and her body ultimately parceled with gleaming, immense strength tape. She is, for wont of a more appropriate term, helpless. Just the way the masked raider needs her to be on this hot summer night! And, in her leotard and misted black tights, she's gonna get rather heated herself! Buckle up, Guys, for one continual, remarkable attempt to escape!
It was a little after 11pm and beautiful brunette ballet success story Jess was thinking about winding down and leaving for home. Her wealthy boyfriend and coach, Jacob FlatBread, has purchased for her a new studio and more, setting her up here with her own ballet business. But Jacob has a past, and a few enemies looking for payback. One such is letting himself in through a basement window right now, intent on robbing the place, while also shaking up Jacob's hot little ballet star, the fabled Miss Harrington, winner of many, uh, competitions.
Meanwhile, upstairs, oblivious to the break-in (won't be this way for long) Jess gracefully executes a few moves, stretching and happy. She is good, and she knows it. She's destined to win her upcoming contest, and – what the??? A man is suddenly rushing towards her, something in his pocket. Jess, totally bemused, keeps her hands up, as instructed, before being roughly whirled around, shoved into wall, and having her wrists bound securely behind her with tape.
The beauty wants to know what this is all about, and the raider assures her she won't be harmed. He means only to rob the safe of its contents, and to leave her helpless, to send a message to her coach there! Jess is beginning to freak out by this point, so he crams her mouth with socks and methodically binds her face and head with more and more tape. Once hugely gagged, the busty hottie is wrestled to the floor and thoroughly packaged as she ggggmmmppphhhhhs and glares at her assailant.
Left to struggle, locked inside the private room, the beautiful ballet star thrashes around wildly, shocked and trying oh so hard to get free. Hearing the noises of the raid from up here sends her into a frenzy and she is soon bouncing around the room, at times almost trying to climb the walls. There must be something around here that maybe she can even cut herself free on? The reality is, there isn't and so she starts rolling around hoping the tape will loosen.
As for that Herculean gag wrapped around her fucking head, she has no chance at all of shifting it. To emphasise just how brutally she is silenced, she gags on the thick cloth wadding up her mouth, and struggles anew. This cannot be happening. Who IS this guy and is he going to be doing anything else with her? Thoughts flow in her mind, out of her control, and she panics. Now, the cutie can surely be forgiven for this too. That gagging, and those intense restraints, would be enough to unsettle anyone, and yet her energy levels remain at peak Jess efficiency!
More struggles, with her ballet shoes removed – the guy comes in, rips them off and spanks the humiliated beauty several times across her shining, pantyhose ass with the – Jess writhes around, ending up in a corner, again trying and miserably failing to work her gag loose. Her only chance of rescue will come the next morning, when Jacob shows up to open the place. How is she going to cope with a night bound and gagged like THIS? We'd sure like to find out, but will content ourselves knowing it'll be pretty epic so being most grateful for this time we have with her. Now, be warned, this is scorching hot tape bondage and gaggage. We'd NEVER give you anything less, either. Go, Jess, thrill us some more!

Starring: Jess Harrington
Size: 869.76 MB
Duration: 00:16:51 min
Resolution: 1920×1080
Format video: mp4
Preview: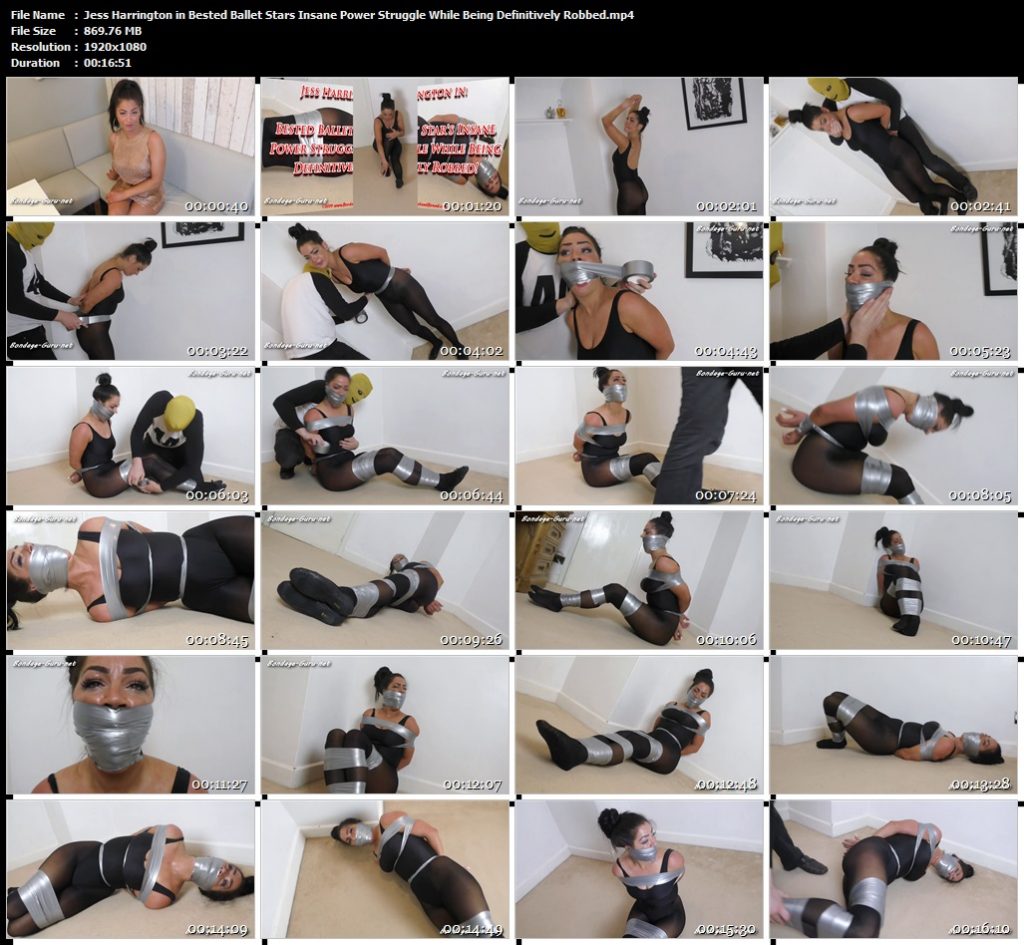 Download link:
Jess_Harrington_in_Bested_Ballet_Stars_Insane_Power_Struggle_While_Being_Definitively_Robbed.mp4