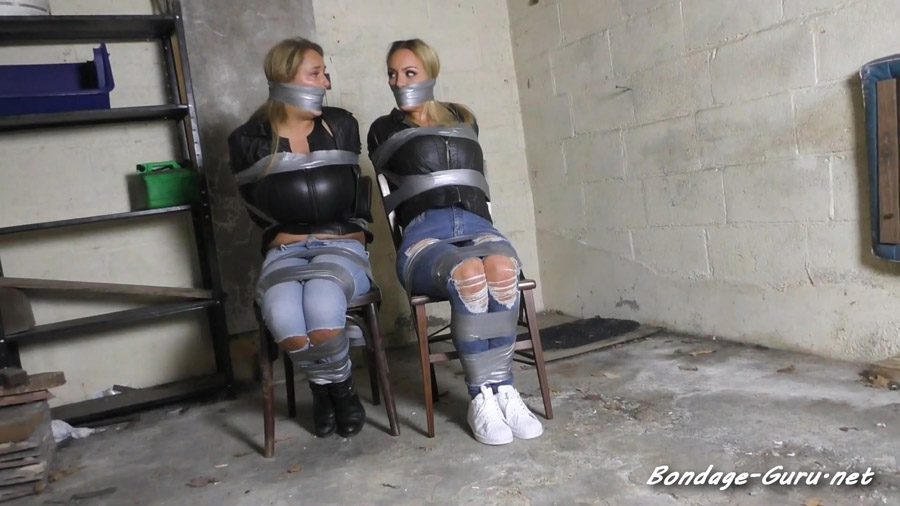 Borderland Bound – Jenna & Katie in: The Fiendish Leopard's Colony House Caper- Baffling Crimes & Systematic Restraint for Feisty Undercovers! (Epic Tri-Gagging Action)
Borderland Bound – Jenna & Katie in: The Fiendish Leopard's Colony House Caper- Baffling Crimes & Systematic Restraint for Feisty Undercovers! (Epic Tri-Gagging Action)
Jenna & Katie in: "What WERE They Hiding Out Near 'Leopard's Colony House' That They Didn't Want Us Blabbing About.?"
Katie & Jenna's sexy tape strip gaggings from: Hands Up Time @ ClueFind Villas For Gorgeous Girl Snoopers. Now to Bind Them. Seal Them & Hide Them!
Katie & Jenna's intense cloth gaggings from: Dazzling Tales of Girl GumShoes in Peril: Tied & Gagged Over Their Mouths, the Race To Escape Was ON!
It's one intense cloth and tape up caper you are invited to embark upon! We have these two MEGA chair strugglers going for absolute broke, bound and gagged repeatedly and finally held as secret captives in an abandoned shack on the perimeter of a creepy house they've been snooping around. Let's get into it.
Stunning Jenna Hoskins teams up once more with massive-chested hottie Katie Thornton to investigate a macabre case involving stolen skeletons from the nearby Museum of Natural Yoghurt. Well, the skeletons were recovered by a hand scrawled note found at the old warehouse they were being stored in has led their enquiries here to so-called 'Leopard's Colony House'. The girls, in their leather jackets and tight blue jeans, begin they're search, having taken off their jackets (who knows, maybe they have the central heating up in here.) and they rove about the house, splitting up. Both are seized by a masked goon intent on holding them until they can be incapacitated more solidly. Yes indeed, something clearly is going on up here. The question is: What?
Trussed and gagged over their warm mouths; the jeans-clad sleuths are left squirming desperately, concealed in a back room of the property. Damn and does he ever tie their kicking legs and feet up. So hot as they thrust their hips at him, straining against their handkerchief gags! Unable to communicate, they nevertheless try in vain and their expressions and exertions are an awesome thing. They variously go through all of the classic motions, with their knees bent, struggling angrily, backs to wall, even at some point gaining their feet and hopping to a window.
Of course they are stopped by the returning crook and the busty hostages are writhing around on the floor some more, this time tightly roped back to back, still straining passionately against their tight handkerchief gags, staring frantically around the room, gag talking and always considering more escape routes, should they break free of the bindings securing them together. Their actions are dispensed with all of the usual superb vigour and YES, all of these beautiful women know EXACTLY how to handle such gags, knowing intuitively how to turn all of us the fuck on.
With the much wriggling and mmmmmpppphhhhing, still good and secured, the feisty captives contemplate their fates and while they are about it they make very hot use of their time, pumping the sexiest gag noises and encased-boob thrusts you'll see for a while – or until our next release.
Now, marched off with her hands in the air, she joins Jenna on the stairs. She won't try anything, because this second bad guy has her friend in his fetid clutches. Reticently, she complies and both girls are taken through to an old office and tied up while kneeling on the floor. They fear him not, however, and sound off remarkably brazenly for two bound heroines.
Hearing enough of their nonsense, he gags the writhing maidens and leaves them (after a good tit-grabbing, of course, how could he leave two sets of knockers like those alone for long? And the girls are locked inside, setting for a moment and gag talking at one another. After a time, they hatch on a plot which involves many gymnastics and you'll be thrilled to your marrow with each one. All the while, the babes grunt and strain, their super sticky silver tape gags keeping them well-quelled. Soon enough, Miss Thornton has her jumbo boobs unleashed from her leather top and she is bigly groped by the pervert, who then moves his attentions onto the stunning Miss Hoskins.
Humiliated and very helpless, the two sleuths go right back to their struggling, working their way across the room – and even at one stage being helped out by the returning bad guy, who brutally drags both across it in order to convey them into barrels, which will be loaded down at the dock alongside this rambling old manse. From there, the girls – all four of them – will be shipped via Port Sturminster for some place we haven't yet dreamed up. But don't worry about that.
The girls are made to kneel with their hands on their heads. That then, is just the start of this. Next readied for the great outdoors, the feisty babes are unimpressed and voice their disdain while a bad guy binds their wrists behind them with strong silver tape, adding a couple of slapped on strip gags to prevent them from crying out as they are hustled out to a dilapidated shack and shoved into chairs. Priceless journey out there as the mmmmppphhhhing captives scan with great trepidation, their mounting surroundings! Are there SPIDERS back here??
Ripping Katie's gag off, she is quick to attempt to blurt out some nonsense before having a sock bundle ploughed straight into her mouth. She gags hard but there is no relief as the creep slams his hand over her face to stop her spitting them out while with the other he grabs another reel of tape. Bound and helpless, Jenna looks on as her partner has her face welded shut with extreme brutishness via all of that extra sticky tape. She knows she is next, and attempts more sass as soon as his hand is off of her own naughty mouth. But in goes another sock bundle and around and around goes all of that tape and thoughts of meaningful communication are derailed.
Satisfied that the lower facially-mummified beauties can do no more than grunt and strain, the crook parcels them up where they sit while they regard each other in pure befuddlement. This guy is going in all the way, evidently. With the gag blabbing ladies mega trussed down to their seats, the leaves, locking them inside, and now the battle for freedom begins in earnest, with the incapacitated hostages bouncing around and chair hopping like crazy!
Eventually, Katie mages to get her chair over near a shelf confining items which may or may not aid in their endeavour, all the while being encouraged by Jenna, who can't do much more than this and we are fine about that, right? She is properly helpless and taped up in a rickety wooden chair which might even collapse under her at any moment. Be prepared for that. This thing is starting to creeeeaaak, adding of course to the flavour of this tape bondage banquet.
Later, and the girls, evidently doing too much fruitless kicking, have their trussed legs further restricted to their chairs and must endure some titty-squeezing from their leering captor. He seemingly very much likes the idea of having them hidden out here. Has he even told his nefarious cohorts he has them? Who can say? Anyway, it's back to some serous struggling and emoting into their colossal, cheek-crushing wrap gags.
Now, you know we deliver with our tape offerings and here you have two of the most amazing damsels really going at it. Jenna is repeatedly trying to get her gag off and it's so hot watching her frustration every time she goes for it. That thing is staying ON, and SHE is staying put in her chair. Katie too is in no state to help. In fact, her own sweet face looks set to blow at any point. Yep, these two are well taken care of out here. The crooks need not concern themselves with them going anywhere for quite some time! Damn those bastards. What will they do to these lovely captives? That's their business. Ours is settling back in the shadows and experiencing to the maximum their desperate predicament.

Starring: Katie Thornton, Jenna Hoskin
Size: 1.78 GB
Duration: 00:41:15 min
Resolution: 1920×1080
Format video: mp4
Preview:


Download link:
Jenna_and_Katie_in_The_Fiendish_Leopards_Colony_House_Caper_Baffling_Crimes.mp4