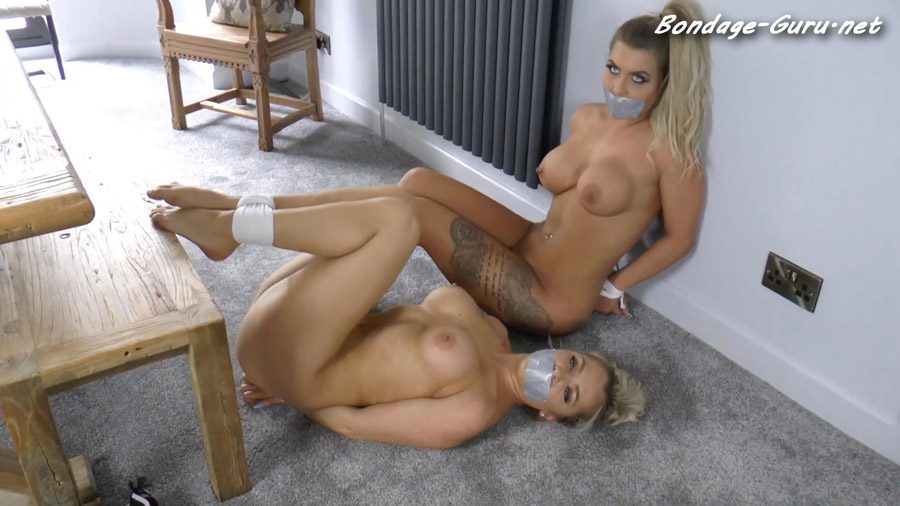 Borderland Bound – Jasmin & Daisy in: Time For a Good STUFFING: Psycho Chef's Second Serving of Hot Big-Titted Babes in Delicious Jeopardy!
Borderland Bound – Jasmin & Daisy in: Time For a Good STUFFING: Psycho Chef's Second Serving of Hot Big-Titted Babes in Delicious Jeopardy!
Being readied for 'processing', the girls look at each other, wide-eyed. The lovely, stripped naked damsels are tied hand and foot, mouths taped shut, completely helpless. The demented Chef promises them a good 'stuffing', and, as they squirm, mmmmppphhhing in protest, they know he is a man who will deliver! Help us!!!
Did you catch that other one where Sir Ian, the much-storied dubious culinary dude, grabbed a couple of bemused beauties on his trail? Yeah? It was these two very fillies, was it not? And didn't he deal with them both wonderfully? Well, did you ever imagine what they'd look like with veg chopped onto their greased backs and buttocks, as their succulent and restrained bare feet wiggle under the madman's nose? Ever wonder what they might look like in their 'holding pen', trussed up and tapegagged? Or hogbound very securely, their mouths stuffed to capacity and bound up with cloths, muffling them both to the extreme as he.. Sautées?
After Jasmin gets taken out in the kitchen – poor Love, lying there not knowing what hit her – Daisy will soon know! It was HIM, HE is the Chef! With the naked girls being tied up on the floor, they still seem to have a lot of mouth for ones in such dire peril. Of course, the Chef has none of it and slaps silver tape over their mouths to quiet their foolishness. Gagged, they are left struggling valiantly while being processed for the kitchen. The girls are trying all kinds of acrobatics but they just can't lose their bindings! Fearing that kitchen, they continue to wriggle, gag talking sensationally – and with some urgency!
Unable to get free, we re-join the restrained women, huge apples jammed into their jaw-breakingly wide open mouths, juicing and drooling a lot around all of that fruit. Sexy! The Chef fair can't contain himself as he touches up their pretty wrinkling soles, caressing their twined up toes as they twitch in his grasp. The ladies bump up and down hotly, glaring defiantly around the room. Yes, they have Sir Ian all hot and bothered, and so he has to gag them again. Naughty, naughty minxes trying to put him off his stride with their big-boobed charms. They're all the same, and they SHALL be chastised.
Daisy has her mouth stuffed hugely and before she can even try to eject her forced gag, he whips out an old rag and secures it tightly around her face and head. She ggggmmmppphhhhhs, outraged, tied feet trying to kick back. He mocks her and subdues her some more, while Jasmin mumbles angrily alongside. She gets it next, much to her humiliation. The ladies gag on the stuff in their mouths as the Chef leaves to slip into something more comfortable!
We hang back in the kitchen, where the action is, and Jas and Daisy are laying it on thick! Can you imagine two hotter birds for the oven? Ok, well, we do get the hot 'uns for the Chef, granted, but these two are up there with the world's finest – we're sure you'd agree. Lady Perfection! As Daisy tries hard to communicate with her helpless partner, Jasmin mashes her big juicy tits down into that counter top, thrusting her tight rump high into her hogtie rope. Yum! But it is far from over. The Chef is just warming up!
Returning to the furiously struggling captives, the Chef is concerned by their antics and so feels the desire to gag them some more. Yes, the two twisting piglets require the covering of their tied mouths! He produces two thick cloths and over gags the stuffed and cleaved hostages. The girls go wild.There! They can wriggle like that now! He leaves again, after first checking on some simmering pots no doubt! The babes angrily mmmmmppphhhhh after him and go right back to doing their damnedest to drive us all over the very precipice of pleasure.
Say what you like about that Psycho Chef – and you will – he gets these little bitches good, and if ever a man prepares for his meals, it's him. You'd do well to try to escape now, Girls, while he is upstairs taking a cold shower. We've seen this guy in action before. He doesn't mess around! And whether they ever got free or not, you just know that a fine meal was enjoyed by all, this being a hot and heavy fantasy, of course! Intense enough to have you remembering it for a good time to – come.

Starring: Daisy Dillon, Jasmin Marie
Size: 1.06 GB
Duration: 00:21:52 min
Resolution: 1920×1080
Format video: mp4
Preview:


Download link:
Jasmin_and_Daisy_in_Time_For_a_Good_STUFFING_Psycho_Chefs_Second_Serving.mp4