Borderland Bound – Chantelle, Roxi & Hannah in: Early Morning Snoop/Capture for Bikini Investigations Ltd Wild Chick Division: Prepare For Insane Struggling! (Dual Gag Ups)
Borderland Bound – Chantelle, Roxi & Hannah in: Early Morning Snoop/Capture for Bikini Investigations Ltd Wild Chick Division: Prepare For Insane Struggling! (Dual Gag Ups)
Those bouncing-boobied hotties at Bikini Investigations are back at it again, you'll be pleased to receive. The agency of undercover spies had experienced a brief lull in appointees due to the alarming rate of binding and gagging going on. Yes, the spunky girls out in the field are always great at snooping, not so great at avoiding capture. Wouldn't it be just something if this latest batch of mouth-watering gingerbread girls fell neatly into the above category, eh?
Three young and naïve vixens are dispatched to clear up a suitably creepy mystery! Bikini Investigations Ltd are nothing if not dedicated to sending hotties to their certain peril, it seems. Agent Keogh (you all know how smokin' this chick is) makes the error of showing up first. She is snatched fast and under tight handgagged up control, conveyed to a back room and chopped out when she gets too boisterous. After that, the girls turn up, get taken out, like glorious clockwork! Soon enough, all three captives squirm gagged and tied tightly, hand and foot. Those gorgeous handkerchiefs bulging their cheeks are as terrific as always and the girls can barely mumble with them on.
From here, its amazing barefoot heaven as these three shapely detainees wriggle and writhe (oh they do struggle most urgently, just as the helpless Lucie does upstairs) and it's nothing short of magical. We have a heavy (extremely pretty too) foot focus in his one, just as requested by the wonderful author of this custom epic. All three of these beautiful women are seasoned actresses and they WILL give you the show you are looking for.. See how intensely they strain at their tight gags, how they pump and work those incredible bodies, slithering like colourful lady snakes across the carpet, grinding their tight, bikini-clad arses as they groan helplessly into their gags an. ah, enough of this, getting too turned on to continue. YOU take it from here, guys. You know the score!

Starring: Roxi Keogh, Chantelle Fox, Hannah Shaw
Size: 1020.93 MB
Duration: 00:20:04 min
Resolution: 1280×720
Format video: mp4
Preview: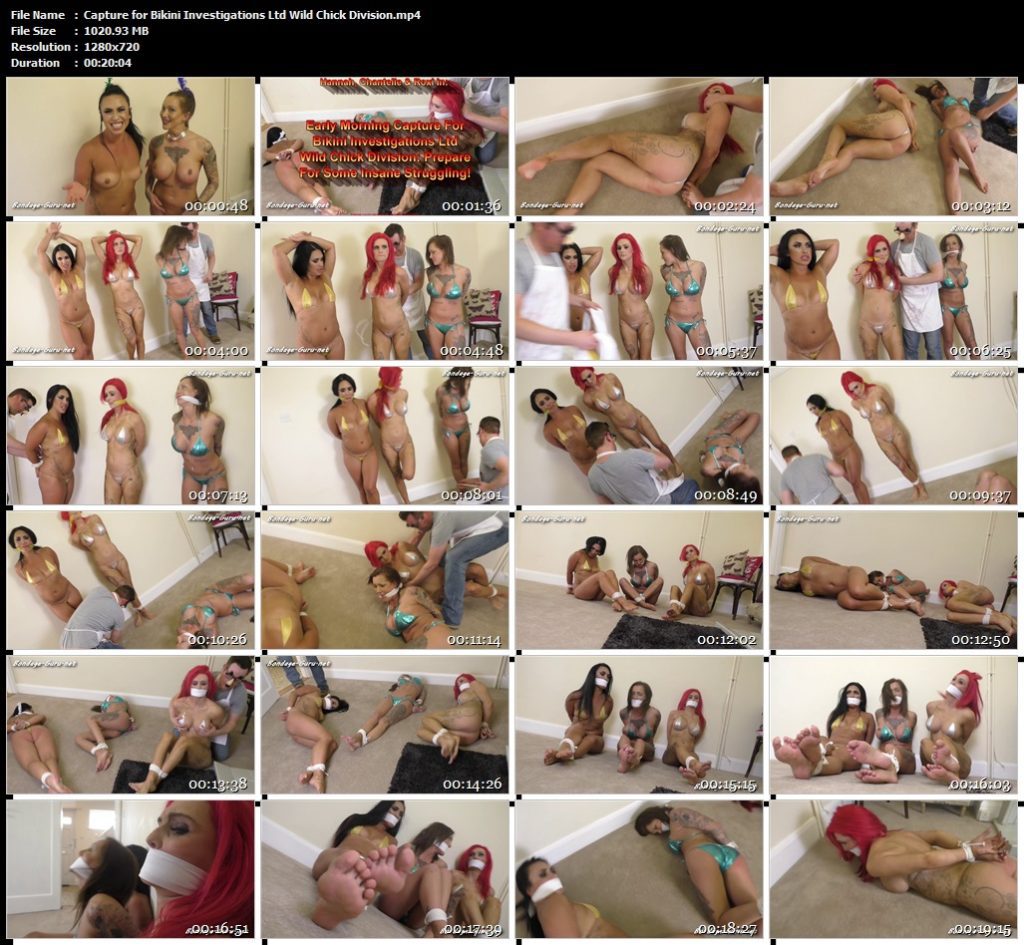 Download link:
Capture_for_Bikini_Investigations_Ltd_Wild_Chick_Division.mp4