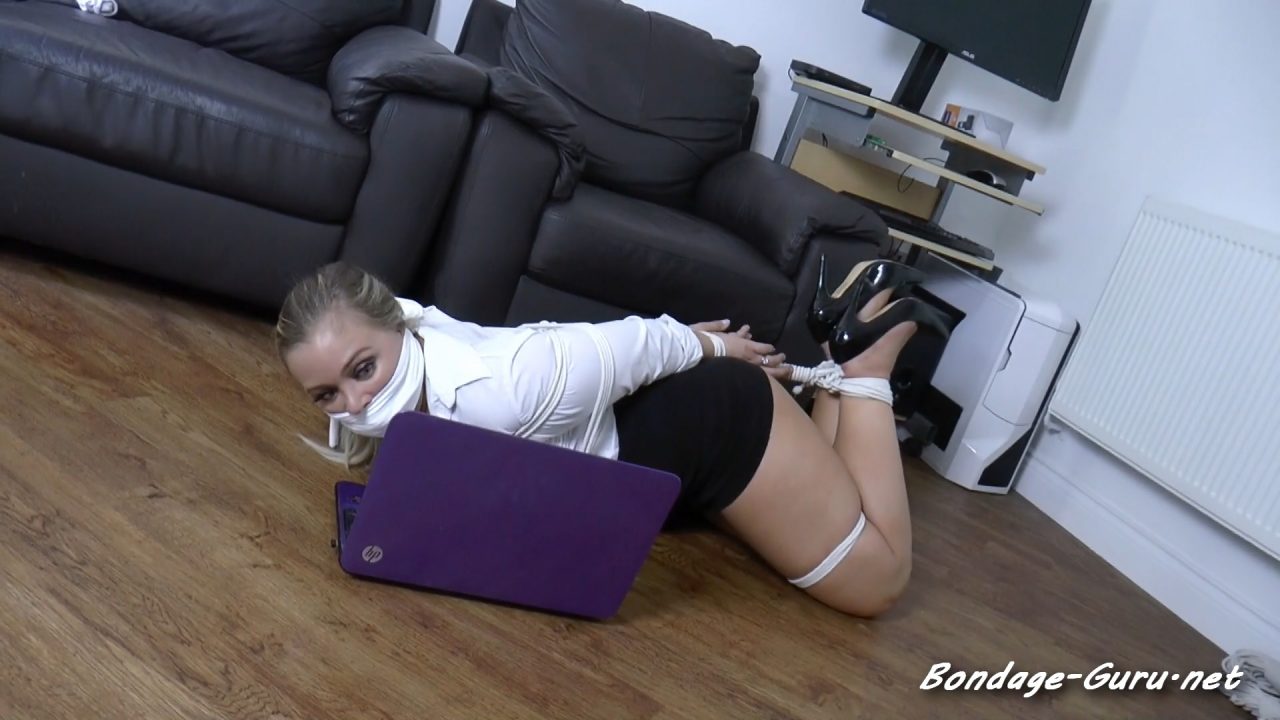 Beth in: She Wanted the Break-in to Look Realistic – He Made SURE it was – Stuffed, HogBound & Double-Crossed! – Borderland Bound
Beth in: She Wanted the Break-in to Look Realistic – He Made SURE it was – Stuffed, HogBound & Double-Crossed! – Borderland Bound
Devious banker and saucy, busty beauty Beth is duly getting her just desserts. Pigbound on the hardwood deck, her mouth crammed with cloth and tightly tied with cloth, bulging her cheeks (her eyes too – with outrage) the comely captive is being well and truly double crossed. She'd kick herself if she could, as she had trusted this guy. But there can be no trust in matters of crime, and trussed and gagged Beth here, fuming on the floor, is discovering this.
She had asked him to tie her tight, and she'd assumed he had no prior knowledge of tying. This is what he led her to believe, anyway. Although, once he has her all roped up to her office chair, she has a moment to pause – literally. Isn't he a little too, well, good at tying her? Still, it is what she requires, for when the cops find her later, they must be convinced. But what is she up to getting this bozo to restrain her like this?
Disgruntled banker clerk Beth (oh they don't pay her anywhere near enough) has been plotting with an associate of hers named Dustin, to knock over her own bank. Dustin has always had a shine on for young Beth and she has always played up to it, thinking that one day she might just need this guy's help. Today is that day. He's easy to manipulate, and she has done so. Planning on robbing her own bank, Beth has been doing her research and has read of similar situations where the clerk is found tied up and the money gone.
Having obtained the codes to several safes in the vault, she has shared the details with her accomplice, Dustin. He's masked up and can force his way straight in and quickly empty as much as he can, given that he has the codes. But first, he must bind and gag the clerk and they can make it look like he threatened her into giving it up. Complicated? A tad unrealistic? Excellent, this is what we like!
Meanwhile, Beth urges the clown to gag her. They'll try a bandana and she'll spend a little time alone, struggling and trying it out. She does so and finds that although she cannot move out of her chair, she can make a little noise with this gag. As tight as he has tied it, she can still mumble loud enough to be heard next door, if she really tries. So she needs something a bit more.. Substantial in her mouth!
When the accomplice returns, she motions for him to remove her cleave gag. He does so and while it is hanging about her neck, she asks him to stuff a thick wad of cloth – which looks suspiciously like panties, into her mouth. Beth immediately knows that this is the gag for her, and encourages him to further gag her with cloth, to really hold the stuff in there. He does it a little too tightly, but it's the effect they are going for, so she lets it ride!
After a big ol' chair struggle, and having delicious fun with the seriously muffling new gag, Beth believes they have it cracked. She needs to make an adjustment for something slightly smaller to go in there, and when Dustin returns, motions again for him to remove her gag. This time, though, he doesn't. Instead, he whops another slice of cloth over the top of her gag, further stifling her, and tightly binds it in place over her face. Ggggmmmppphhhh!!
Beth is shocked by what she fears is a betrayal. She is right to as well, as he hauls her out of the chair and starts hogtying her face down on the floor. He explains what this is, and Beth goes nuts as only she can. He laughs at her foolishness in trusting him and explains that he'll be leaving with the loot – and not her. But at least it will LOOK realistic, right. Beth?? Furious and cursing his deception through her huge gag, she struggles wildly while he prepares to leave.
Before he goes, he returns to unleash her big tits, which he has a little play with, of course. Beth rants and raves, gloriously muted through her triple gag, trussed up like a salami and with much explaining to do later on, when they find her! He does leave her with entertainment in the form of her lap top. Who knows, maybe she could even use her nose to select something to watch to while away the hours! Oh, this is marvellous fun, and you just know Beth is going to make the most of the frutity hogtying sequence. Wonder what she'll say when they get all of that off of her mouth!

Starring: Beth
Size: 1.28 GB
Duration: 00:25:50 min
Resolution: 1920×1080
Format video: mp4
Preview: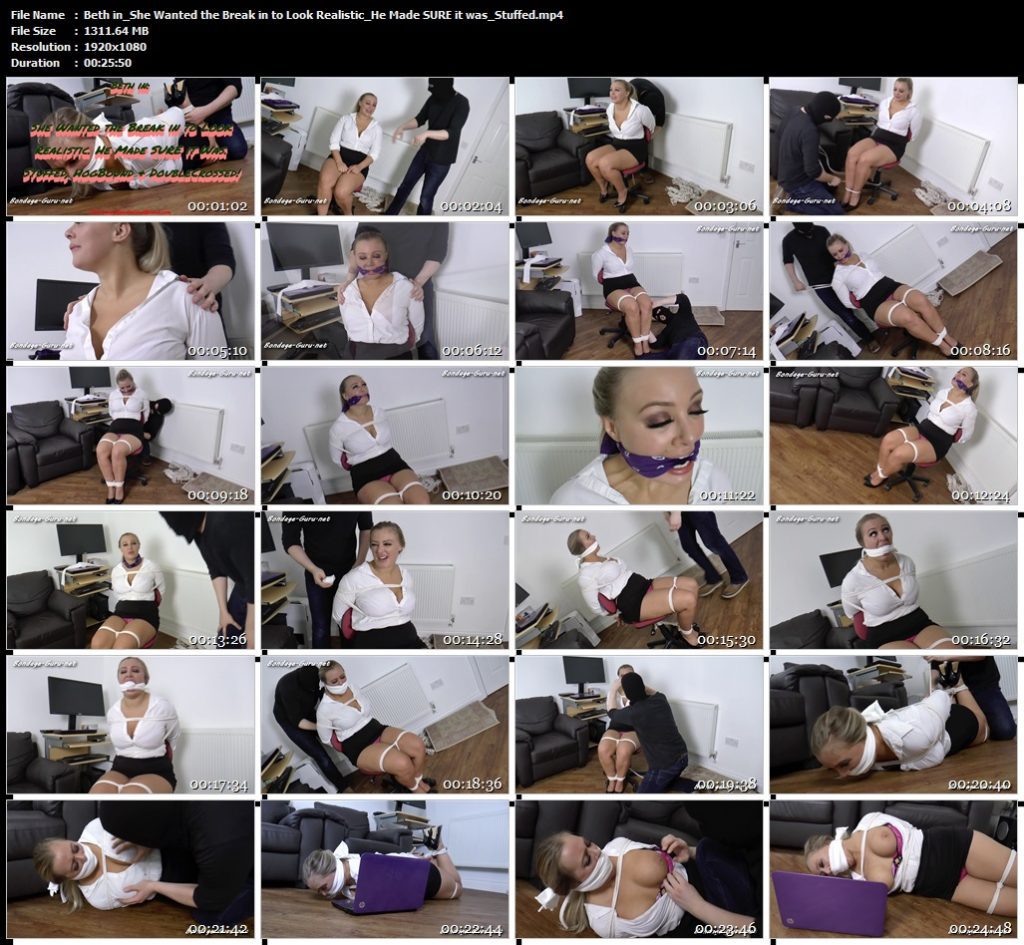 Download link:
Beth_in_She_Wanted_the_Break_in_to_Look_Realistic.mp4