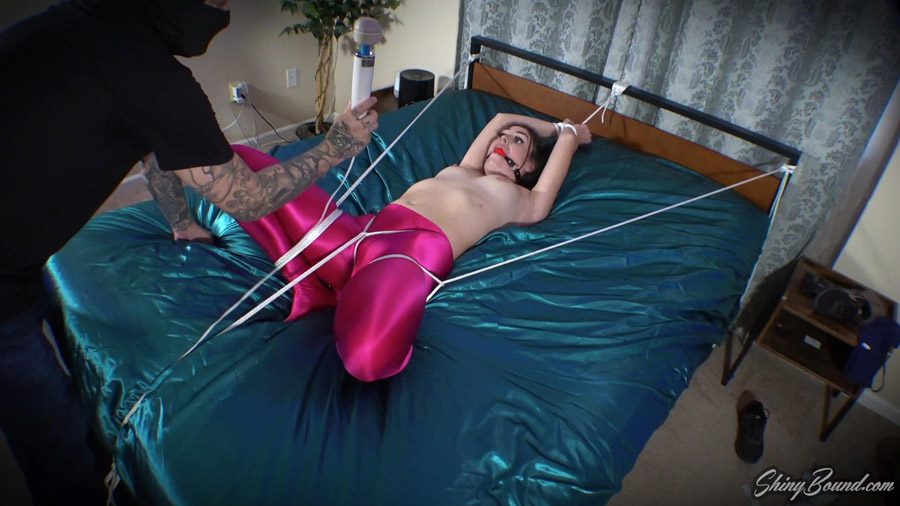 Ashley Wolf.. The Jogger Part 3 – ShinyBound Productions
Ashley Wolf.. The Jogger Part 3 – ShinyBound Productions
Finally.. In part 3, poor Ashley finds herself once again tied down on the bed. This time, she is on her back with her arms tied above her head and anchored up to the headboard. There is a SEVERE crotchrope tied over her leggings that is pulled down to the footboard of the bed and pulled very tightly, nearly splitting her in two. Her poor legs are frogtied off to the sides and anchored up as well. She is once again in quite a predicament!
She pulls and struggles, crying out through her ballgag. The masked man returns. He tightens her ropes even more until she is practically in tears. He grabs her back massager and holds it up to her poor crotchrope. The vibrations rock her to her core, and even tho she is in extreme pain from the tight ropes, she can feel herself building to an earth shattering orgasm. He teases her and asks if she can reach the knots. Finally she does get the knot loose from the headboard that held her arms up, but the bastard grabs the rope and holds it while he continues to vibe her. Just as she is thinking that she cant take anymore, he stops. He tells her that it's been fun, but he has to go. He explains by the time she gets herself untied, he will be long gone. Then he leaves her.
Poor Ashley gathers her thoughts. The crushing crotchrope. Oh how she wanted the pressure to stop. She reaches up to the headboard to untie her legs. WAIT a second. She can't reach the knots! She reaches down to the footboard, but she can't reach that knot either! Even tho her hands are completely free, she can't get loose!! Panic strikes her! She grabs the crotchrope, trying to ease the pressure, but it won't budge an inch. She again begins to sob and call out for help.
After several minutes of despair, poor Ashley is finally able to pull one of her legs out of the frogtie, and then the other. The relief she feels when she can finally get some slack on her poor crotch almost makes her cum it's so good. She sighs and catches her breath, and then runs downstairs to call the cops!

Starring: Ashley Wolf
Size: 551.3 MB
Duration: 00:12:28 min
Resolution: 1920×1080
Format video: mp4
Preview: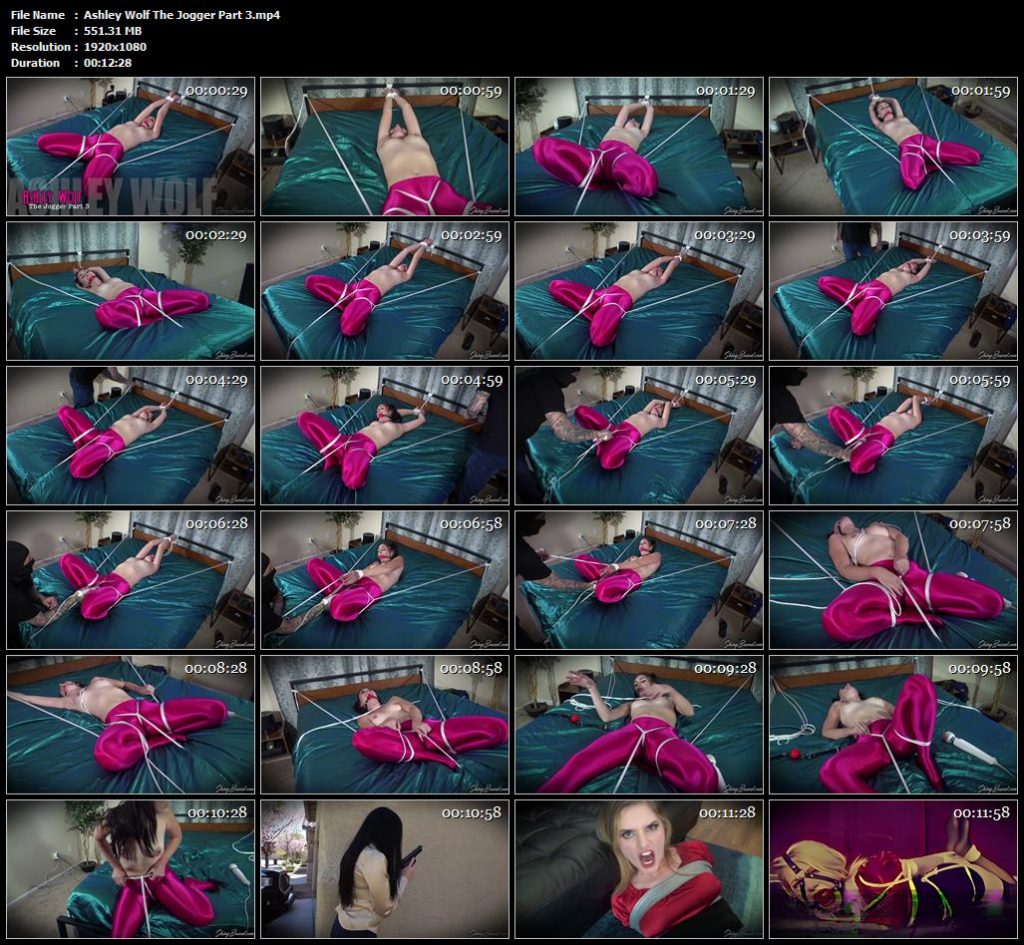 Download link:
Ashley_Wolf_The_Jogger_Part_3.mp4