Anissa, Pandora, Kourtney, Kellie & Sally in: With Gags Tied Tightly Between Their Teeth, Uniformed Beauties Struggle Desperately For Release! – Borderland Bound
Anissa, Pandora, Kourtney, Kellie & Sally in: With Gags Tied Tightly Between Their Teeth, Uniformed Beauties Struggle Desperately For Release! – Borderland Bound
So this is a scintillating excuse to treat you all to 5 gorgeous cleave gagged women rolling and writhing and struggling and straining around offices and parlours alike. United by thick cloths tied snugly between their teeth, pulling back into the corners of their mouths, they've been secured in place so strongly, their amazing bodies bound with stout cord. All are captured. All are desperate, and all will be pleasing you muchly, we think.
Commencing with lovely Pandora getting held up in her office by a masked bandit! The nutter forces her to reveal the combination to the boss's safe and then leaves her tightly bound and gagged. With his back turned, and after some very impressive gag talking/ legs curled brilliance going on, the beautiful captive is soon thrashing around the room looking for a way out. Eventually, she lucks upon a discarded phone – hers as it happens, and does her level best to get in touch with somebody, anybody. But it isn't working out too well, and so there's lots of mumbling and crotch-thrusting, as if in weird ecstasy.
Clad in sheer black nylons and a tight little business suit, the hot babe is out to thrill and her writhings continue until we are about ready to burst. No less hot across the street with Kourtney and Anissa, however, incredible lady guards, held up under similar circumstances! As both girls protest (his persuader wins the match) they are bound with strict silver tape and have their mouths gagged with thick black cloth. Both girls gnaw at them and ggggmmmmppphhh a lot around the brain-freezingly tight cleaves, and they are genuinely muffled by them. Their long, pretty legs kick and twist as they struggle in their chairs. It's intense, to be sure, and you already have three of these gags (mondo sexy) held firm in warm, sensuous mouths, before one more little scene.
Miss O'Brian and her partner Sally are stringently detained by a madman. Conked out, they come around (that questioning of him earlier. man, they thought they were tough.) to discover they are all tied up. Before they can say much about it, they are gagged one by one with white cloths, just as thick and overpowering as the previous hot entries. They are soon gag talking excitedly, while they are felt up and left to struggle. All brand new stuff from their scene and we also include a damned good original hogtying too, which completes that before the bitches wound up gagged with something else. But THIS is for the cleave gag dudes – and you know who you are. And here's what you are getting:
Wall to wall mega-tight cleave gaggings of the sublimely gorgeous and the firmly tied up. Women in uniform too. They had thought they'd wielded so much power, and in a sense they do. Over us, for we are powerless to not want to see them squirming and mouthing at their tight gags, for our pure ecstasy!
Starring: Anissa Kate, Pandora, Kourtney Love, Kellie O'Brian, Sally
Size: 1.6 GB
Duration: 00:32:25 min
Resolution: 1280×720
Format video: mp4
Preview: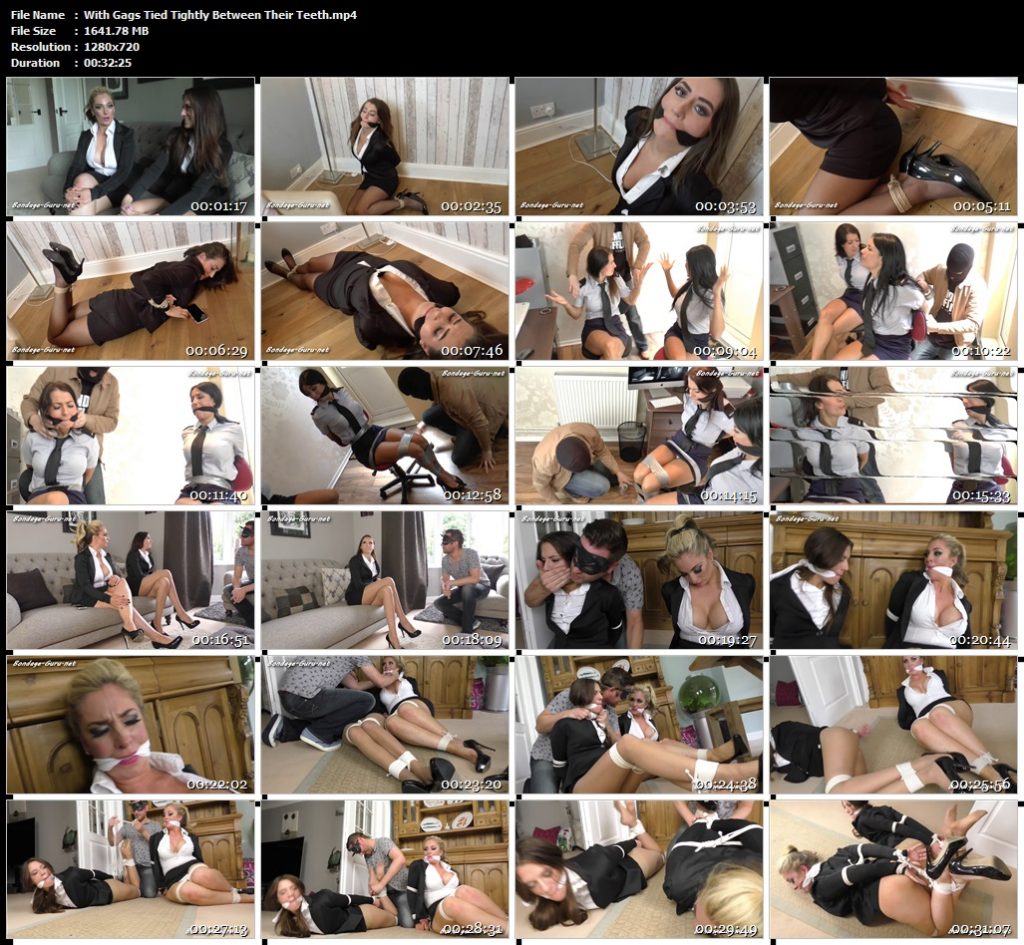 Download link:
With_Gags_Tied_Tightly_Between_Their_Teeth.mp4