Amber & Georgie in: The Escape Challenges of Agents Maeville & Spruce: Stripped & Panty Gagged All About the House! (Full Clip) – Borderland Bound
Amber & Georgie in: The Escape Challenges of Agents Maeville & Spruce: Stripped & Panty Gagged All About the House! (Full Clip) – Borderland Bound
Like barefoot, bare everything, frantic to free themselves damsel types using every ounce of their restrained energy? Good. Cos heeeere we go again!
We decided to feed plucky gumshoe babes Amber and Georgie to the bad guys once more, due to their popularity in their last bondage escape challenge escapades. This time, the captured agents are forced to strip off their underwear and then gag themselves with it. Both are then tied up and told they must try to escape if they ever wish TO escape. And that will include much moving around on their hot, nude little backsides, trying to get downstairs and to the front door and freedom etcetera etcetera. But FIRST, they must be heavily, HEAVILY gagged with strong silver tape. The mmmmmppppphhhhhing, humiliated and enraged beauties are then left bound and gagged in utter frustration and despair.
Good luck escaping this one, ladies. You have been tied and gagged TIGHT. The babes go for it though with typical, exuberant aplomb, finally communicating to one another to make it down to the floor (after some cheeky hopping) and begin the long trek across the room, through the halls and down to the next level.
Tons of scorching ass wiggling and hip thrusting. More spicy gag talk than you could dream of without conjuring a tight gag Borderland Bound Fantasy Deluxe. These babes are on FIRE as they roll around, shuffling, twisting, desperate! Feisty and chagrined at being stripped completely naked, these damsels are in real jeopardy. Its another of our all over the house tour de forces for you with two uber sexy, sensual ladies who know exactly how to keep you all on the precipice with every tight body contortion and breathy, underwear stuffed gag emission. You are going to LOVE this. Hot, TOTAL action from start to finish. Just how these capers should be, and always are here in the Bondage Hub! Enjoy, massively! Included in this story: bondage, tape bondage, gag talk, damsel in distress, redheads, brunettes, nude bondage, rope bondage, barefoot, foot fetish, escaping, escape attempts, gagging, struggling, hopping, female desperation, spanking, tan bodies, hand gagged, onscreen mouth packing, panty stuffing, panty gagged, wraparound tape gagged

Starring: Amber, Georgie
Size: 415.83 MB
Duration: 00:16:22 min
Resolution: 1280×720
Format video: mp4
Preview: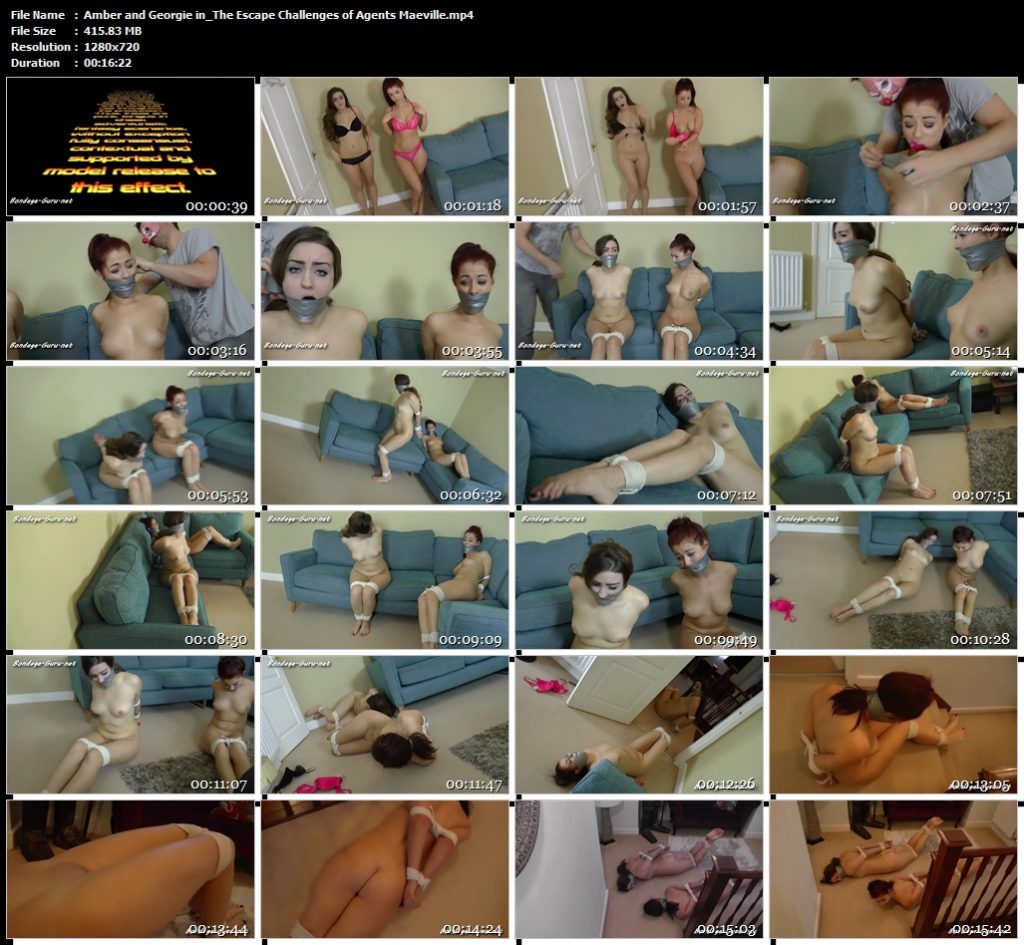 Download link:
Amber_and_Georgie_in_The_Escape_Challenges_of_Agents_Maeville.mp4