Alex Coal – Babysitter Tied Up and Found – ShinyBound Productions
Alex Coal – Babysitter Tied Up and Found – ShinyBound Productions
Sexy babysitter Alex is just chillin' on the sofa when one of the brats gets a funny idea. Alex trying to be the cool babysitter decides to play along. "You wanna tie me up?… OK!" she says with a nod and a smile. Little does she know, this brat has a history of tying up babysitters really tight and leaving them for his dad to find when he gets home from work.
This day is no exception. Babysitter Alex is now very securely tied down to a chair in the living room and playing along. "You're gonna untie me soon, right?" she laughs nervously as he dances around her laughing. She starts to struggle and pull free, but it's no use.
As time ticks by she starts to get VERY nervous. She knows the dad could come walking through that front door at any moment and she would be utterly humiliated to be found in such a compromising position. How would she explain this? What if he told other people about this?! Now she is getting very worked up about it.
CLICK.. SCCREEEECHHH.. The front door opens. Her first instinct is to panic and pull at the ropes. "Whats this?" he asks as he walks over to her.. She looks down in complete embarrassment. "Looks like he got you too.. Haha."
"What?!" she snaps. "He has done this before?! Please let me go!"
"Haha, yeah he likes to get into my ropes and stuff and leave you girls for me to find. Im gonna go upstairs and talk to him.. But first.." He walks over and shoves a gag in her mouth. "We'll have to teach you a lesson as well.."
Bondage, BDSM, Rope Bondage, Chairtied, Panel Gagged, Babysitter, Jeans, Ballet Slippers, Struggling, Helpless

Starring: Alex Coal
Size: 888.64 MB
Duration: 00:17:43 min
Resolution: 1920×1080
Format video: mp4
Preview: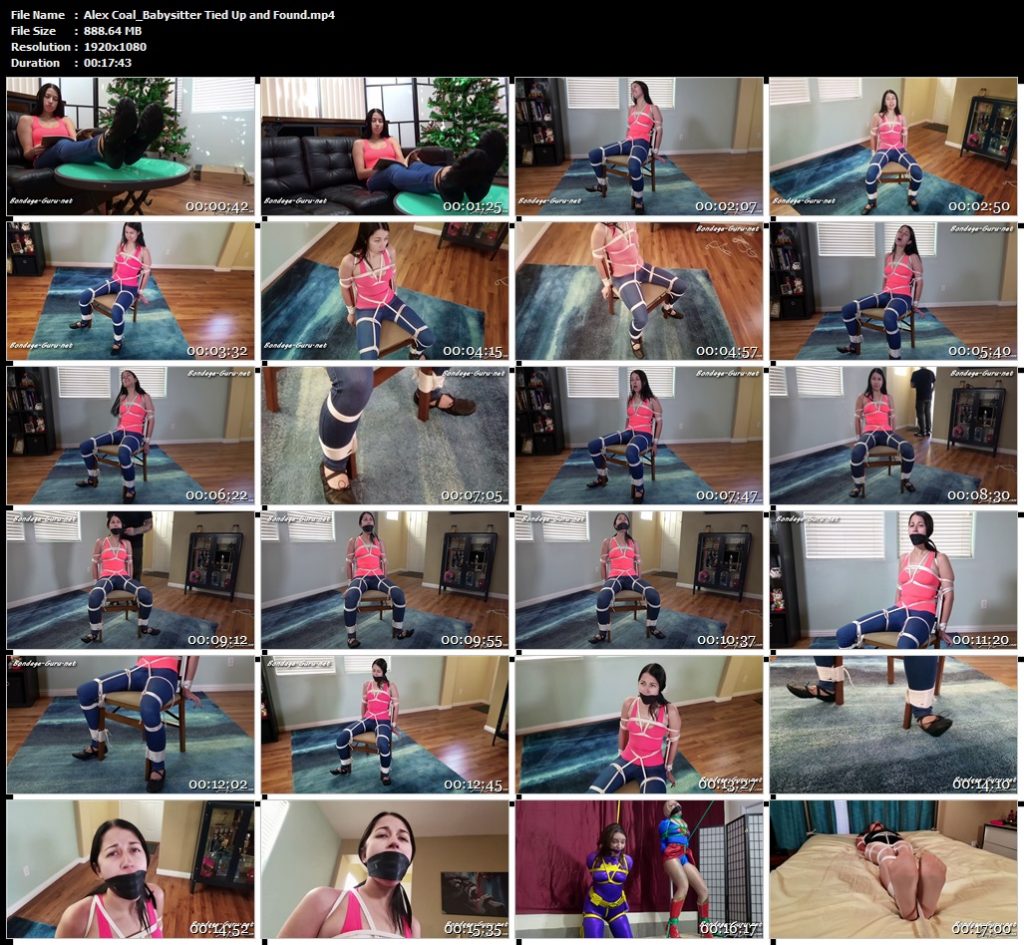 Download link:
Alex_Coal_Babysitter_Tied_Up_and_Found.mp4