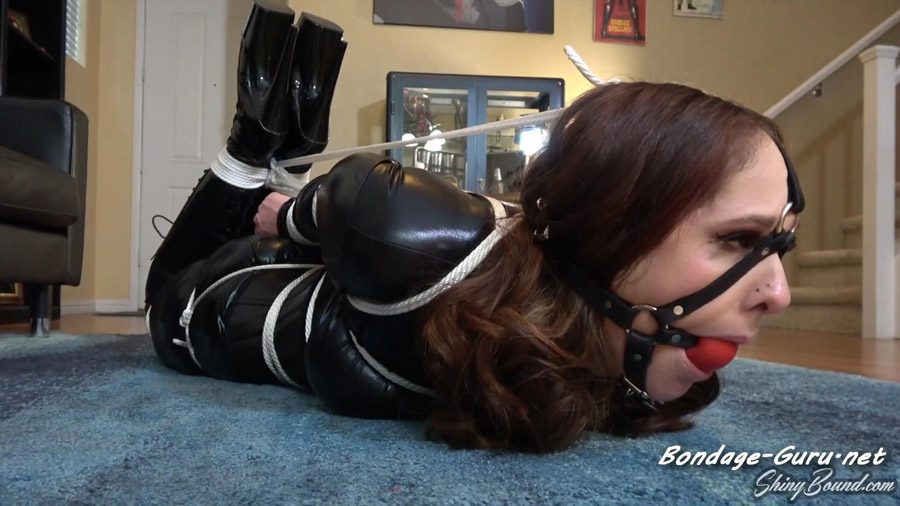 Akira Shell- Never Give In- Tap Out and Try Again – ShinyBound Productions
Akira Shell- Never Give In- Tap Out and Try Again – ShinyBound Productions
Gorgeous Akira Shell looks amazing in a PVC catsuit and boots. I tie her all up starting with her crotchrope and body harness, then sit her down to tie her ankles and knees. Last I do the wrists and elbows, followed by the harness ballgag. Things are great for the first minute or so, and the she starts clicking her fingers indicating something is not right. I run over and untie her elbows and we sit for a few moments getting the feeling back.
Normally Akira can remain elbow tied for a very long time, but she informed me that during a recent session, she was bound brutally tight and the nerves her elbows were damaged. NOOOO! I ask her if she wants to quit, but she is determined to finish the video. I carefully re-tie her and we get back into the scene.
Next we pull her into a tight hogtie, tying her head harness ballgag back to her ankles for a tight arch. I roll her over on her side, and back up again. She seems to be doing fine this time. We get some really sexy footage of her completely helpless and moaning, and then I begin to untie her. I get her arms untied and remove her gag and she begins sobbing. Her poor elbows had started bothering her again but she toughed it out as long as she could. We ended it and got her out at the perfect time! Poor girl!

Starring: Akira Shell
Size: 1.08 GB
Duration: 00:25:10 min
Resolution: 1920×1080
Format video: mp4
Preview:


Download link:
Akira_Shell_Never_Give_In_Tap_Out_and_Try_Again.mp4