ShinyBound Productions – Carissa Montgomery – The Wish HD
ShinyBound Productions – Carissa Montgomery – The Wish HD
While going through his late grandfathers storage unit, Shiny finds a bottle with a note that promises 1 wish to whomever rubs it. "Yeah right Gramps.." He jokes as he rubs the bottle. "If I had one wish. What do people wish for? Money? Haha. If I hd one wish it would be. For superbabe Carissa Montgomery to be tied up in my bed!"
Meanwhile, on the other side of the country. Sexy Carissa is just settling in on the couch after a long day of sessioning in her dungeon. "What the hell?!" she exclaims! "Wh.. Whats Happening?!"
Carissa phases out and all of a sudden is standing in a strange bedroom. "What the fuck?! Where am I? This looks liks some perverts bedroom. How did I get he…?
Before she can finish her question, ropes jump up from out of nowhere and yank her onto the bed. More ropes appear, some tearing at her clothes, exposing her breasts, while others grab her by the wrists and ankles, pulling and stretching her body into a tight spread eagle. A final rope coils around her waist and up over her crotch and tightens down until she squeals. "Oh my GOD! What is happening What is thi….?!"
Once again she can't finish her words before super sticky duct tape flies up and slaps her across the mouth.
"MMPPFFFFFHHH…MPPPFFFFFFFFHHHH!!!"
Carissa tries to struggle and break free, but she soon notices that the harder she pulls, the tighter the ropes get. ALL of the ropes.. She lays there still. Trying to contemplate just what in the fuck is going on here!

Starring: Carissa Montgomery
Size: 542.9 MB
Duration: 00:16:26 min
Resolution: 1920×1080
Format video: mp4
Preview: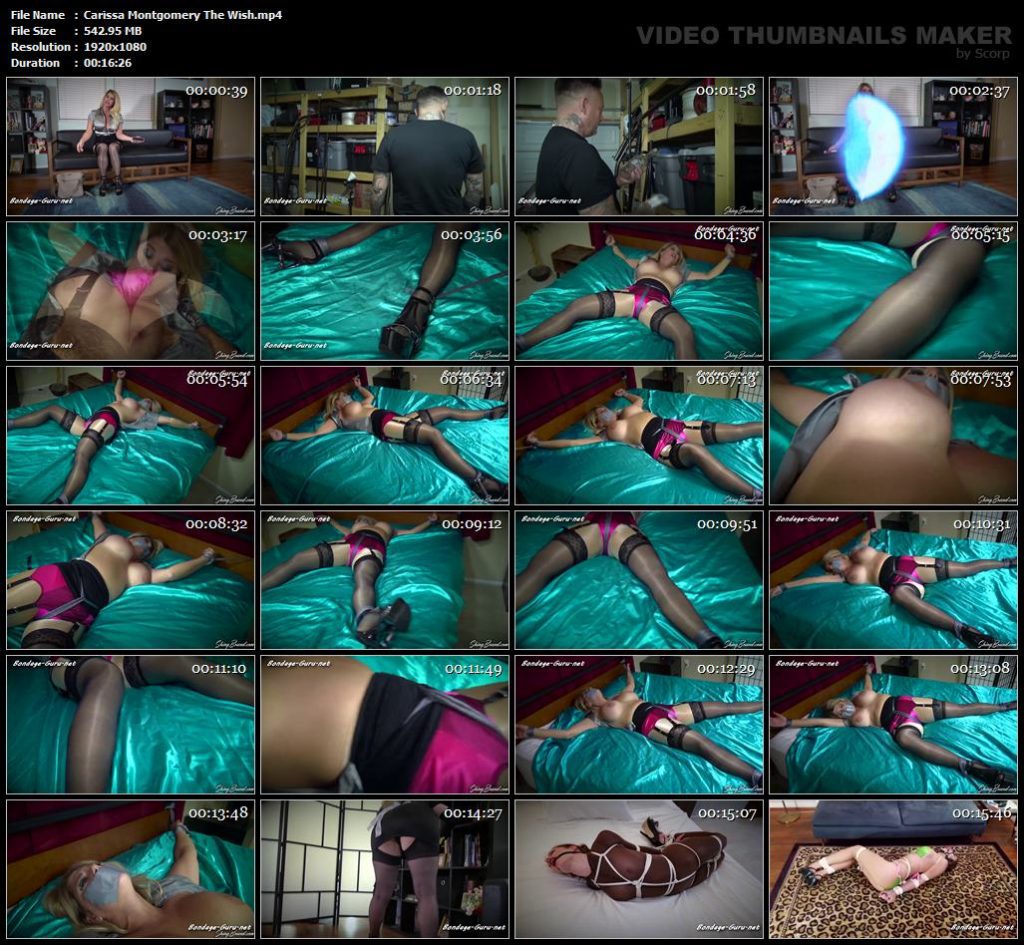 Download link:
Carissa_Montgomery_The_Wish.mp4