AMERICAN DAMSELS by Jon Woods – Business As Usual – Complete & Remastered
AMERICAN DAMSELS by Jon Woods – Business As Usual – Complete & Remastered
Now this epic fantasy of secretaries in bondage is remastered and bargain priced! At the B & G Company regional office, Ginger Sparks has called Angelica Saige (AKA Vivie Delmonico) in for a meeting about the strange reports corporate headquarters had been receiving about her office. She begins by asking about Kristal Summers. The gorgeous blonde was working late in the office when she was confronted by intruders who chairtied and tapegagged the luscious secretary. The helpless lady manages to slip out of her high heels but not the ropes, and the villains couldn't resist opening up her blouse to expose her considerable breasts.
As Ginger Sparks' inquiry with Angelica Saige (AKA Vivie Delmonico) continues, she asks about another after-hours robbery. This time the victim was Niki Lee Young. The gorgeous blonde was confronted by intruders who tied her to her desk chair and silenced her with a knotted cleave gag. As the unfortunate secretary's ordeal continues, a detective gag is layered over the cleavegag, her legs are tied apart so we can get an unobstructed peek at her pantyhose, and her lovely, all natural breasts are exposed.
Next Ginger Sparks asks Vivie Delmonico (Angelica Saige) to tell her about the attack on Laura Lee. Vivie explains that Ms. Lee was not actually an employee, but a private detective, hired to investigate possible embezzlement. While working late, the busty P.I. was confronted by an intruder who chairtied and cleavegagged the dark-haired beauty — and absconded with all the evidence she'd uncovered. Before the invader left Laura to helplessly struggle, he exposed her huge breasts to further humiliate the sexy gumshoe.
Next, Vivie Delmonico (Angelica Saige) tells Ginger Sparks about the unfortunate incident with Lady Monroe. The blonde secretary was sent out to the company's property for the monthly inspection, and she was overpowered by a group of college students who were squatting in the house and using it as a place to party. The pretty blonde was chairtied and cleavegagged, and as you might expect, the randy intruders couldn't resist taking advantage of her helplessness to expose Ms. Monroe's perfect breasts.
Vivie Delmonico (Angelica Saige) then tells Ginger Sparks about Scarlett Wild. They did get a burglar alarm installed for the property in the suburbs, but when Scarlett was making the monthly inspection, a burglar entered and overpowered the redheaded cutie. The all natural babe is cleavegagged and chairtied, yet the burglar fully exposed his slender damsel before leaving her to helplessly struggle against the ropes.
The next story is of secretary Ashley Rose. She thought she was going to the property in the suburbs for some naughty fun, but her date turned out to be a corporate spy! The curvy blonde is handcuffed and bound to a chair, and she pleads to be let go. But she's cleavegagged and exposed while the spy makes off with valuable documents held in the safe. Left alone, the helpless secretary struggles to free herself, and tries in vain to get over to her phone left slightly out of reach.
Next Ginger Sparks asks Vivie Delmonico (Angelica Saige) about the report involving her. Vivie has to sheepishly admit that she was in the office after hours for a little fun and it got out of hand. The leggy beauty is chairtied and tapegagged, but before her date made off with the petty cash, he opened up her shiny blouse so we can enjoy her perfect, all natural breasts. Poor Vivie then struggles to free herself, and tries in vain to get to the phone to call for help. She knows if she's found like this, she'll be totally humiliated!
After Vivie Delmonico (Angelica Saige) made her report about the previous incident, Ginger Sparks insists that the leggy office manager undergo the B & G Company's escape drill. The statuesque beauty is roped into a classic tie and silenced with a stuffed cleave gag. Vivie struggles valiantly, but her efforts are all for naught. But when she fails to free herself, Ginger reveals a secret motive and the story takes an interesting turn…
Ginger Sparks was hoping to abscond with some valuable contracts, but she was double crossed by her partner! The turncoat binds and gags both sexy secretaries and spirits them to the B & G Company's property in the suburbs. The helpless ladies are taken back to a workroom off the garage where they're hogtied, cleavegagged and exposed. The villain leaves them alone to struggle. How can they ever escape?

Starring: Ginger Sparks, Vivie Delmonico, Niki Lee Young, Kristal Summers, Laura Lee, Lady Monroe, Scarlett Wild, Ashley Rose
Size: 2.0 GB
Duration: 01:05:18 min
Resolution: 1920×1080
Format video: mp4
Preview: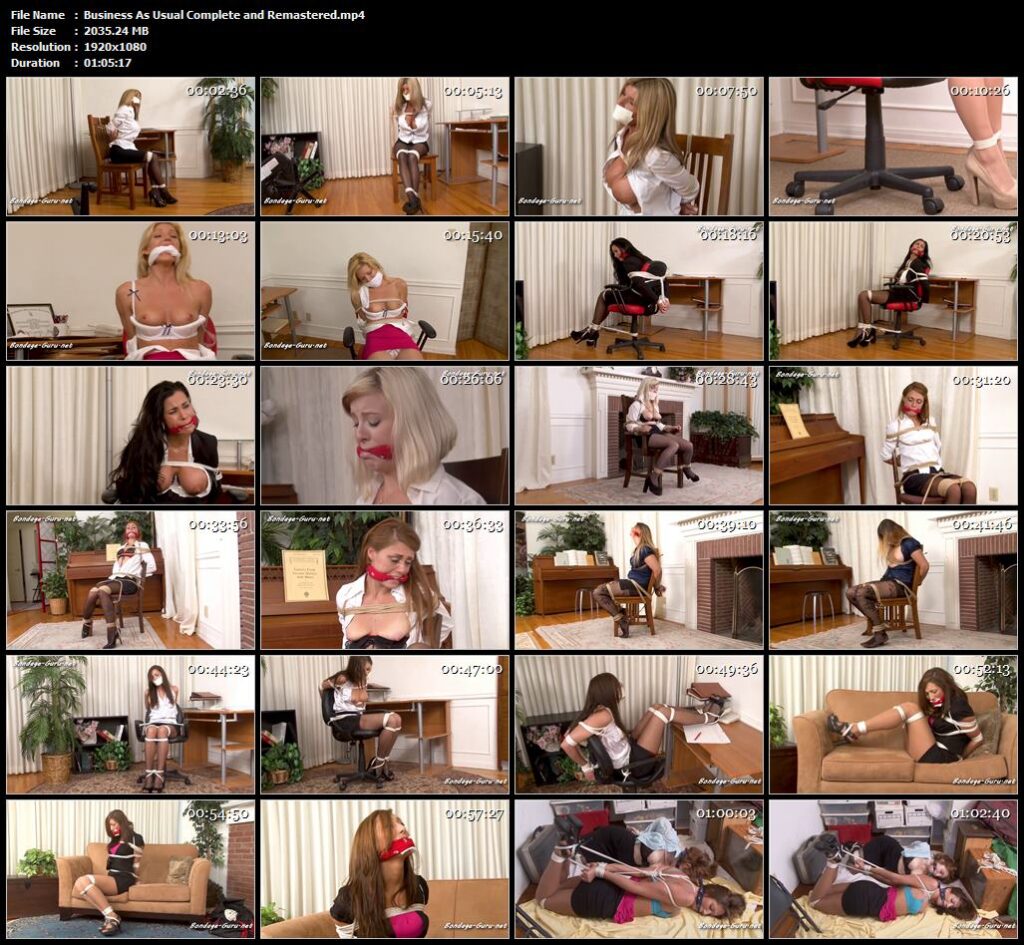 Download link:
Business_As_Usual_Complete_and_Remastered.mp4