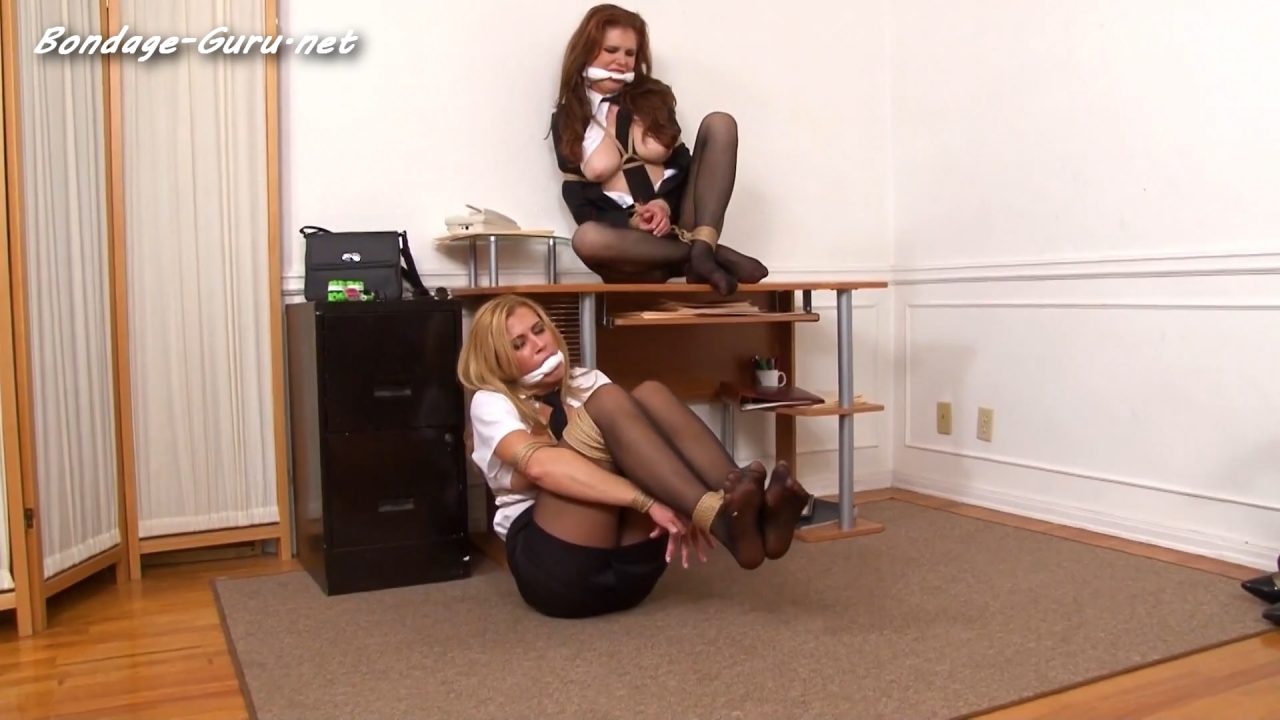 Women In Black – The Complete Story – AMERICAN DAMSELS by Jon Woods
Women In Black – The Complete Story – AMERICAN DAMSELS by Jon Woods
Now bargain priced! A group of mysterious female agents strive to protect the Earth from evil extraterrestrials in this story-driven tale. As it begins, Agent Candle Boxxx is lured into a trap and her mind is taken over. She's compelled to strip off all her clothes (shown onscreen) so a shape-shifting alien can use them to impersonate her. She's been taken captive by a shapeshifting alien who intends to take her place, and needs her uniform. The gorgeous redhead is naked, bound in a standing spreadeagle, gagged and she struggles furiously but she's helpless to stop the Chameleoid from her mission.
As the story continues, Agent Niki Lee Young is awakened by a visit from Sal Amanda, a sinister lizard woman. The wicked alien uses an strange device to temporarily paralyze the gorgeous blonde for nefarious reasons. While the lingerie-clad agent is immobilized and unable to resist, the scaly alien uses extraterrestrial technology on the helpless beauty for her own mysterious purposes. The lizard woman then uses another device to insure Niki doesn't remember this encounter, but Niki's troubles for the evening aren't over yet!
After recovering from her attack by a lizard woman, Agent Niki Lee young is besieged by a horde of Tricotians. The cheery, brightly-colored aliens overpower the struggling agent, and soon she's bound, toe-tied and cleavegagged on the bed. The lingerie-clad beauty tries her best to get free, but all she can do is attempt to squirm over to her communicator to call for help.
Then an unsuspecting Agent Randy Moore meets with a shape-shifting alien spy, thinking it's actually Agent Candle Boxxx. Agent Moore is promptly overpowered and chair-tied, and the Chameleoid uses an unusual ballgag and a vibrator-induced orgasm to extract information from her sexy prisoner.
As the story continues, the real Agent Candle Boxxx is set free by the alien puppet. But before the Candle impersonator can escape with the ill-gotten intelligence she's taken from the still chair-tied Agent Randy Moore, the shape-shifter is attacked by some tiny, evil aliens. The malevolent aliens leave her and Agent Moore tied up, gagged and in a desperate situation.
Woman In Black Niki Lee Young is lured into a trap where she's grabbed by invisible aliens. Despite her struggles, they use tape to frogtie and gag the sexy agent. Then the Shadowans apply a vibrator to force the gorgeous blonde to orgasm so they can control her mind. With her mind under the influence of the aliens, Agent Niki Lee Young summons Agent Alexis Taylor, whom she promptly overpowers. The buxom agent is held bound by rope-like aliens while Agent Young probes her mind for hidden information. When the possessed agent fails in her mission, she leaves her busty colleague to be used by the ropey aliens for their own dark purposes. How will Alexis be able to escape this dire fate?
Starring
: Alexis Taylor, Candle Boxxx, Niki Lee Young, Randy Moore
Size: 2.78 GB
Duration: 00:57:09 min
Resolution: 1920×1080
Format video: mp4
Preview:


Download link:
Women_In_Black_The_Complete_Story.mp4