Layla Bondage Addiction – Pamela Alba Laura and Layla – Feet suckers Intruders at the slumber party
Layla Bondage Addiction – Pamela Alba Laura and Layla – Feet suckers Intruders at the slumber party
Pamela and Alba in the bedroom, on bed, painting their toenails. They are both in pajamas and have their hair up in ponytails (see pic references below). They have toe-spreaders or cotton balls between their toes to keep them spaced out. They are laughing and giggling with one another, enjoying their slumber party, unaware of what is happening downstairs, in the living room where Louis and his kittens behind him are braking in, carrying bags with ropes, bindings, etc. They are wearing ski masks to hide their faces. They sneak in without making any sound and hear Pamela and Alba giggling in the bedroom. Louis turns and shushes the kittens with a finger. They head upstairs and spy what is going on in the bedroom. Pamela says that she is getting hungry and is going to make something to eat. Alba agrees that is a good idea, and says she will be waiting in the bedroom until Pamela returns. Alba puts some headphones on and reclines back on the bed as Pamela gets up, and tries to walk on her heels to the door with her pedicure still drying. The intruder hide quickly and when Pamela is already downstairs they attack her in a 3 vs 1 impossible engagement. Louis got her by her neck and quickly take care of filling Pamela mouth with socks while Layla and Laura hold her arms and legs. Pamela fights like a tigress while Louis keeps stuffing her mouth and wrapping round after round of cloth to seal it so she can't make any noises than low muffles. In the meatime Alba listens her music and giggles at her soft and pretty feet with painted nails. Pamela is lowered to the ground while struggling and moaning. She is pushed onto her stomach, as Laura and Layla uses coils or rope to tie her arms and legs, they continue to battle her struggling while Louis bind the clothes tight on her mouth. In a few minutes they have Pamela under control, Louis sits behind her and raises her shirt to grope her big boobs with pleasure, while Layla is extremely aroused by Pamela wiggling feet. At Louis command she start sucking her toes and feet, , while Pamela spreads her fingers and waves her hands in futility. Louis gets up and is now looking down at Pamela on the floor, with Pamela's gagged face looking back up at him. He pans up and down Pamela's bound and gagged body, and then says, "Sorry, dear, but this slumber party has just been cancelled. We're here to rob you!" Pamela's eyes widen and she protests loudly through her gag while looking up at the camera. Louis tells his kittens to get her on her knees, and she is pulled up so she is closer to Him. She looks up with wide and frightened eyes. Louis laughs and says, "Let's have some fun with her, girls." Pamela pleads and shakes her head, still wide eyed and frightened. Louis says, "Why don't one of you suck on those pretty blue toes of hers some more." Pamela is moved to a sitting position as one of the girls crouches behind her and the other moves to her feet. Layla is at her feet and lifts hes mask up from his mouth and then begins sucking her toes again. Pamela tries to look away but Louis keeps her head to watch as the second girl sucks her toes more. They starts slow and then picks up in intensity, really devouring her feet. Pamela just sits and moans through her gag, giving desperate wide-eyed and sad glances. We get several cuts and closeups of her feet getting worshipped from different angles. Alba in the bedroom, dropping her headphones and calling out for Pamela, asking, "Pamela? Pamela? What's taking so long?" Alba then pulls her toe spreaders off and starts to get up off the bed. in the living room as Pamela hears Alba calling for her. Alba's voice startles the girls and Louis, as Pamela's eyes widen and she cries "Alba! Alba! Run!" Layla jumps down and covers her hand over Pamela's already gagged mouth. Louis tells her to "Shut up!" and then barks orders to his kittens "Move her out of the way! We'll take care of the other brat." He then stops fondling Pamela and starts dragging Pamela out of frame to the other side of the room.
The room is still poorly lit/dark. Alba turns the corner into the living room and calls out, "Pamela?" Suddenly, Louis and the girls jump from behind her and grab Alba. Louis quickly stuffs a cloth into Alba's mouth while Layla grabs her arms. Alba's eyes widen in surprise and then she is pushed on the ground.
Alba falls onto her stomach with the cloth wad still stuck in her mouth. Layla and Laura jump down and immediately begin work to secure her, while Louis readying another white cloth to over-the-mouth gag Alba. Alba really struggles and fights to keep her hands from being pulled behind her back, but loses to the two girls. Louis then whips the large white cloth over Alba's head and pulls it across her lips and face, yanking it back tightly. Alba makes a wide-eyed, confused expression before looking straight into the camera with WIDE, BULGING EYES OF FRIGHT. Alba finally notices Pamela sitting, her soaking wet bound feet and blue toes pointed straight at her. Pamela is looking at Alba with wide, frightened eyes and she is letting out moans from under her gag. Beside her, Louis is still fondling and groping her tits. Alba is heard yelling through her gag, "PAMELA! PAMELA!" Pamela finally gives a sad, defeated expression as she realizes that Alba is doomed. Alba gag is being secured her and Layla has finished tying Alba's wrists with ropes. Alba really struggles and jerks her body, flails her bare feet, and makes loud grunts while really fighting against Layla, making it harder for Layla to finish tying her gag. weaving rope around her ankles.
Is a matter of minutes before Alba is finally all tied up and under control, she is moved to Pamela and the two girls are placed sitting back to back while Louis ties a final rope around they chest to keep them stuck together. They finally have the mansion under control and all the night to ransack the place. But before that is….footsucking time!! Louis gropes his victims while ordering his kittens to satisfy their pleasure sucking Alba and Pamela feet till they are totally covered with their drooling. Till their lips tickles their feet to insanity. This goes on till Louis decide to give Alba ands Pamela some rest, they are put to rest while they get everything of value from the mansion. When they are dont our slumber party girls are still napping but Louis wants more time to gets our of the way so he orders that Alba and Pamela have to be placed in tight hogties, side by side. He is experienced and doesn't want any bad surprise from early escapes. The two girls are waking up as their hogtie rope is being pulled to their elbows and shoulder area, Louis ties the arms of the two girls together so they can't pick at each other knot, they are going to be freed from the maid in the morning, not earlier. Their gags need ot be reinforced too , so he gut some more clothes and place another OTM cloth on their mouth. Nice, everything has gone as expected and it is still early in the night. Louis sits on the couch, his footsuckers kittens may have some more fun. Tie that big toes together dear and give them hell some more. It is 4 am when Louis crew is finally satisfied and shut down every lights, leaving the exausted Pamela and Alba still hogtied, with every muscles aching, waiting helplessly the a morning that arrives slowly while the kittens saliva is still dripping all over their feet….

Starring: Pamela, Alba, Laura, Layla
Size: 1.3 GB
Duration: 00:34:54 min
Resolution: 1920×1080
Format video: mp4
Preview: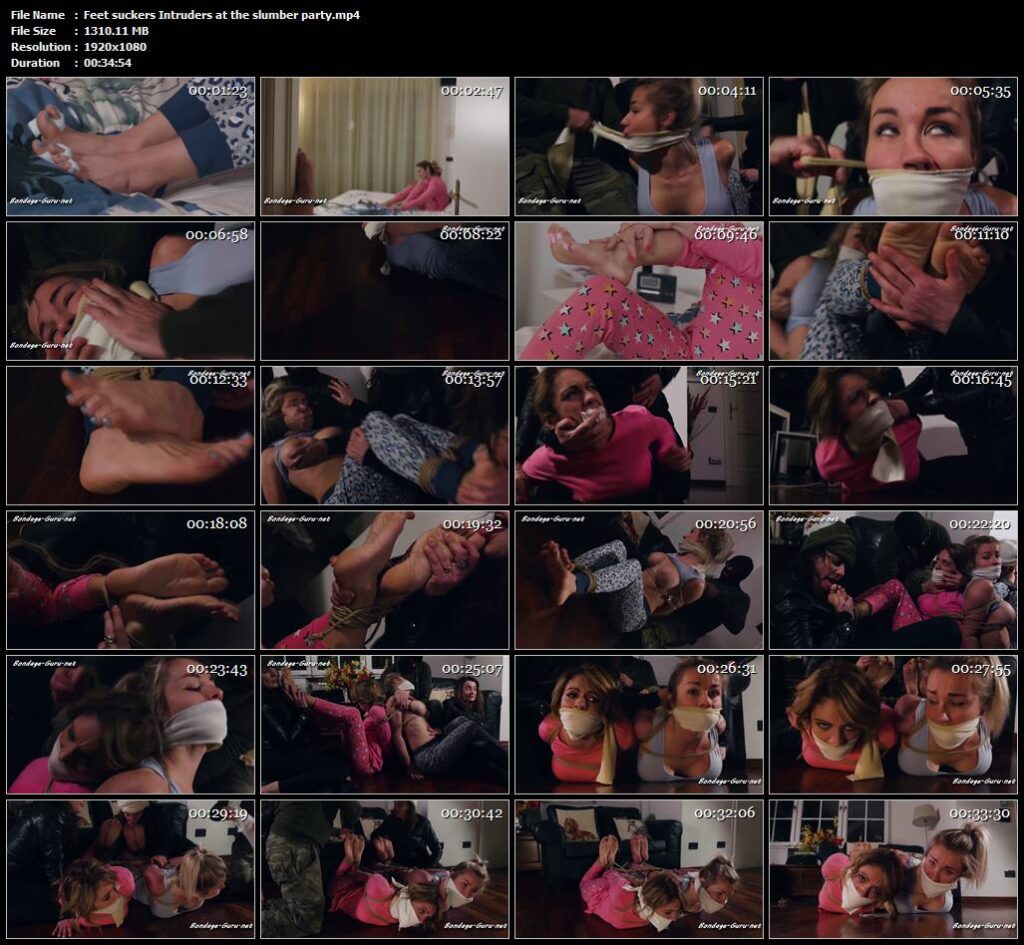 Download link:
Feet_suckers_Intruders_at_the_slumber_party.mp4