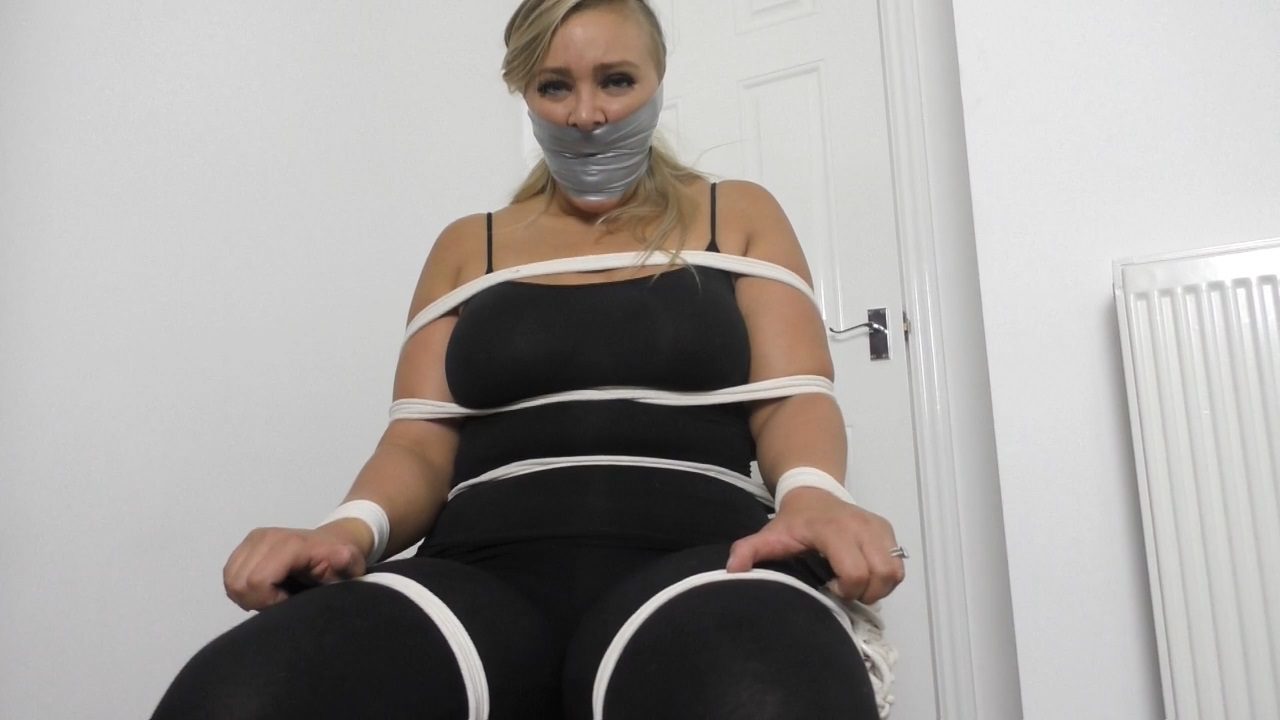 Beth in: Impassioned Yet Hopeless Exertions of a Significantly Stifled Yoga Blonde! (Full Clip) – Borderland Bound
Beth in: Impassioned Yet Hopeless Exertions of a Significantly Stifled Yoga Blonde! (Full Clip) – Borderland Bound
Buxom blonde sexpot Beth (with one of the silkiest accents in town) had no need of the surfeit of whinging employees she'd been dealing with for too long and after taking the advice of her Guru, Theodore, finally summoned the courage to let all of their asses go. They were a ragbag band of security staff anyway and she is confident she didn't need them. Her rich-ass father, DuckForth, knowing his hot daughter would instantly be vulnerable to predators, might have argued the other way, but he isn't here right now, and Beth is alone, with her yoga.
Settling into the spare room of the expensive townhouse her dad has bought her, she is soon getting really into her moves. In shiny leggings and vest top, the busty blonde lovely (oh yeah, almost forgot the ultra-cute ballet shoes – how could we??) is lost in her yoga, visibly relaxing with each amazing new position she bends her sublime way into. We get to enjoy her enjoying herself, but we'll enjoy even more what comes next..
Beth could have sworn she heard something, a furtive noise, from downstairs, but so chilled is she that she unwisely discounts it and continues, her incredible, thick arse twitching in the air as she stretches back farther and farther… Mmmmmmm. She is completely lost in her thing when the inevitable intruder sneaks up behind her. With a hand clamped strongly over her face, closing her mouth and keeping it that way, Beth regards the masked marauder with wide, shocked eyes. He instructs her to comply and,if she does so, all will be fine – aside from the fact that he seems to know she fired all of the staff today and is therefore home alone. Could he be one of them?? Disgruntled as fuck and paying some back? Hmmmmmm.
Anyway, with Beth trussed up and hog-roasted, an extremely tight white cloth cinching her mouth shut, he is off and she hears the sounds of units being scraped about and drawers getting wrenched open. How DARE he?! As she bucks and twists in her hogtie, gagged into silence, she can't help but wonder what else he has planned. IS this just a straightforward burglary of a wealthy girl, or is this a revenge type deal? If the latter, he might do anything; shave all of her hair off, beat the soles of her feet. ANYTHING!
Struggling massively, Beth glares up at him when he returns bearing a load more rope. He has had an idea… We cut to a severe binding in a chair later and Beth is giving him a mouthful when he returns the favour! With a thick wad of cloth ploughed straight into her cake-consumer, he fiercely binds her entire lower face and head with silver tape. Engulfed by it all so massively, her jaw is frozen in place, nice and wide, gob well-stuffed. That is a monster of a gag, and we hope that Little Miss Yoga Blonde can cope with it. We'll see!
Totally humiliated by his chancing groping of her through her tight top, Beth tries ever so hard to make some din as he shuts her inside the room. Alas, she can but mumble, and go nuts in that chair. He's tied her down on it good though, and no amount of serious struggling is making the slightest difference to her restraints. He's tied her up a lot too, evidently preempting her sheer force of will. Which again has her contemplating whether this is one of the Sacked or what? Damn him, at any rate. Her father will pursue him to the ends of the earth once he learns of this outrage! But that hasn't happened yet!
Bound and gagged oh so heavily, straining and creaking and grunting and raving, hugely muzzled and feeling the burn, our beautiful formerly-doing-yoga-quite-happily cutie whips about all trussed up in her chair. No amount of 'whipping' is getting her round rump loose though, but knowing how thoroughly she is bound in and how outrageously hard-gagged she is, makes her every moment of struggling simply delicious. Hungry? This should satiate your huge tape gag craving, Sir or Madam…

Starring: Beth Bennett
Size: 1.22 GB
Duration: 00:28:50 min
Resolution: 1280×720
Format video: mp4
Preview:


Download link:
Impassioned_Yet_Hopeless_Exertions.mp4