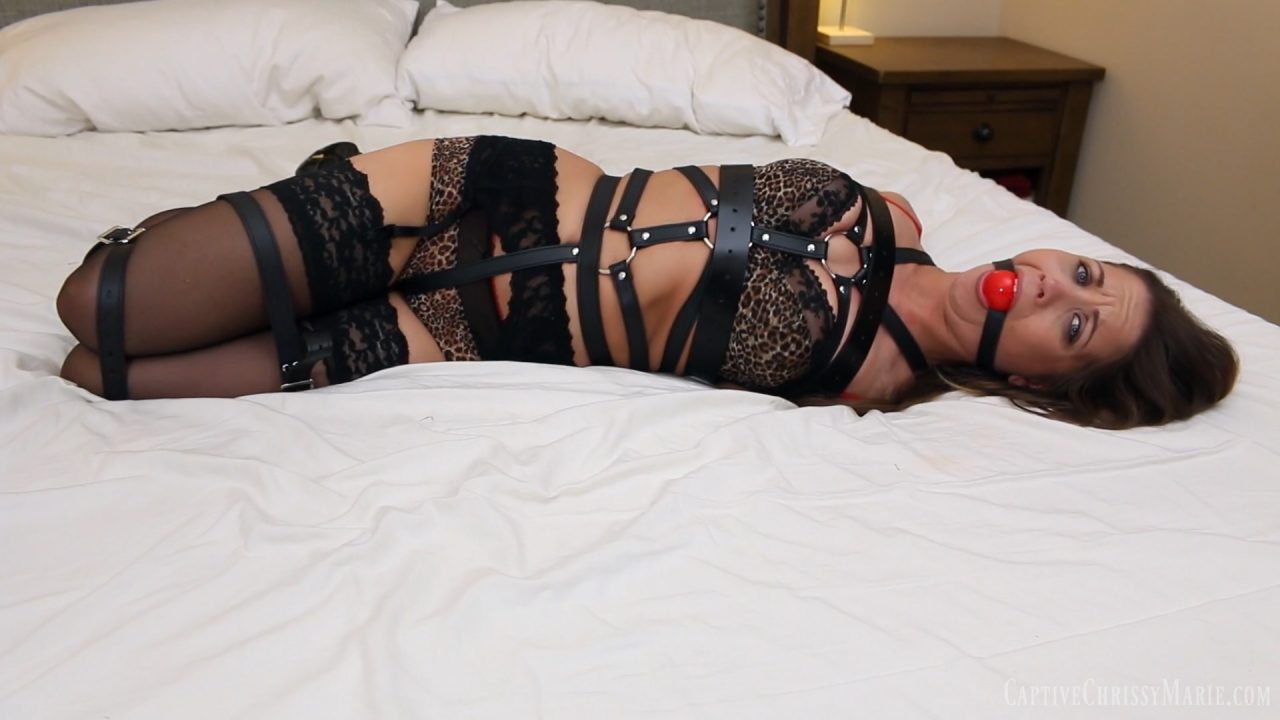 Belt Bondage Surprise – Captive Chrissy Marie
Belt Bondage Surprise – Captive Chrissy Marie
Chrissy was out at a party and ended up going home with a guy she just met. She is feeling frisky and has stripped down to her sexy cheetah print lingerie, complete with garter, thigh high stockings and heels, which she shows off to him, asking him if he likes her outfit. Then she climbs onto the bed asking him what naughty things he would like to do. He tells her he has some ideas. He grabs a small leather strap from the night stand. At first she is into the kinky idea as he binds her wrists behind her back with it. But then he pulls out a ball gag and she looks at it hesitantly. She says we didn't talk about this…to which he responds he doesn't really want her to talk at all, then gags her with it!
Now that she can no longer say no (although she certainly tries!) he puts a leather body harness on her and uses another leather belt to bind her elbows together. She struggles and resists as he goes on the add more belts over her arms above and below her breasts and around her wrists at belly level. With her upper body tightly bound in the belts he moves on to her ankles and uses the same belt to also bind her feet and heels. Finally he secures her knees, above and below, and adds the last belt around her upper thighs. Now that she is heavily restrained in belt bondage he plays with her for a couple minutes then he leaves her struggling helplessly bound on the bed.
She desperately tries to free herself from her uncomfortable predicament to no avail. After a couple minutes he returns and sees she is still able to move around more than he would like, so he adds a belt hogtie then leaves her there again. Barely able to struggle now in the strict hogtie she hopelessly rolls around on the bed until he returns with a big surprise for her! He clicks on the hitachi and uses it on her POV against her will! She tries to fight it but the strong vibrations make her orgasm multiple times! When she is finished she is left wondering just what he is going to do to her next!

Starring: Chrissy Marie
Size: 771.33 MB
Duration: 00:17:40 min
Resolution: 1920×1080
Format video: mp4
Preview:


Download link:
Belt_Bondage_Surprise.mp4